Vintage sex appeal for the holiday season –
Time for another shout out to our sponsor Blue Velvet Vintage. Founder and good friend Theresa Campbell McKee runs this unique vintage style online shop with the same classy and personal touch that evokes the early days of couture houses. Whatever era your female heart desires, Blue Velvet Vintage will find the right retro dress, shoes, accessories, lingerie to suit you and your figure.
So with Christmas and New Year just around the corner – lets have a quick look at some of Theresa's latest arrivals.
Stretch Sateen Halter Swing dresses.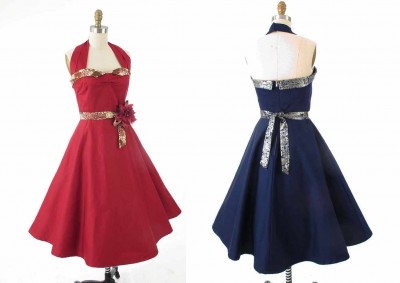 Coming in both festive red and navy blue with dazzling metal brocades – these flirty swing skirts are guaranteed stop and stare outfits for the winter social scene. "Slap on red lipstick" says Theresa, " and and a slinky pair of gold stilettos and your set for the holidays."
Black Beaded Floral Lace Drop Waist "Gabrielle" Flapper Dress.
As enchanting an evening look you will find that exudes all the glamour of the Roaring Twenties flapper. Sashay into the party wearing this beaded, sequinned drop waist style dress and you will have all eyes on you as you. Wear with T strap or Mary Jane heels, opera length gloves and Coco style faux pearl necklace for that real Boardwalk Empire look. You'll find all the approriate matching shoes styles at Blue Velvet Vintage
50s Style Red Floral Embroidered Black Swing Dress.
Gorgeous black poodle style dress with floral and rhinestone embroidery. Perfect with black stilettos. Theresa suggests "clipping a red rose to your hair for that finishing touch."
Classic Dame Black Sateen Class Act 50's Style Party Dress.
Lustrous black cotton sateen dress evokes Elizabeth Taylor and Grace Kelly, Very classy and sophisticated that has a timeless style which is sure to draw compliments when you wear it. Shown here worn with our sexy vintage style red tiered petticoat which adds that all important flounce beneath all your full skirted vintage and retro dresses.
Check out the full range of new outfits and accessories and also pay a visit to the Blue Velvet Vintage Sale
Theresa also has a great blog that we strongly recommend. This weeks post 10 Vintage Inspired DIY Holiday Decorating Ideas 
That's all !