Booklet of cartoons of leading French actresses in 1900 –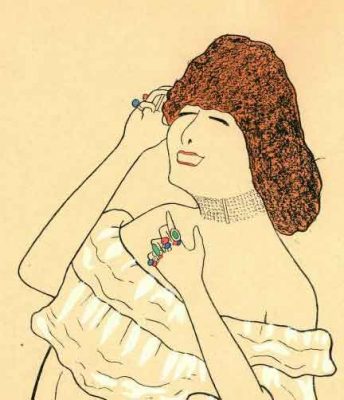 Leonetto Gappiello from Italy and based in Paris is considered to be the father of the 20th Century Art Deco Poster.
He succeeded lithographers like Toulouse-Lautrec, Jules Cheret, and Alphonse Mucha to become the leading advertising poster designer in 1900's Paris. His technnique moved away from the more stylised Art Nouveau and used bold single eye catching images with graphic angular designs. At the very turn of the century he produced a booklet of comic cartoons whose angular sleek style heralded art deco fashion illustration by over twenty years!
This is a rare booklet of humorous cartoons published in 1900, and with a glowing forward by author Marcel Prevost, it was clear that Gappiellos star was well on the rise.
"Here is a new artist, a new vision of feminine types, a new way to lead pencil and paintbrush art print."
The artist comes to us from Italy, where flowers now the rebirth of everything. Cartoonist? The word is not just applied to Leonetto Gappiello dryly. It is not stop on the grotesque; He does not exaggerate faces to cause laughter … I'm sure he sees the woman as he represents them …hmmm.
He sees the contours, features, structure by which – in each model chosen – does everything that is special, different and original about these famous women.
Leonetto Cappiello can capture a face in a moment of emotion, passion, and set exactly the particular strain that emotion and passion printed … and it gives us a kind of tragic grotesque both laughable and rather worrisome such as Sarah Bernhardt in Medea, Rejane in Georgette Lemeunier. I do not think I've ever seen more surprising expressions of the female soul.
Such is the gift of Cappiello. His process is a disconcerting simplicity. I am convinced that Leonetto Cappiello will take a special place among contemporary artists.
I am happy to inform the general public that it would have realised this without me.
Marcel Prevost – 1900 Paris.
That's all !
©Glamourdaze.com 2014