1940's Fashion Parade –
Spring Dresses from the 1942 Sears catalog
After the cold bitter months of winter, women across America eagerly scanned the juicy spring catalogs for some nice frock inspiration. Here's a selection of spring dresses from the Sears Catalog of 1942. They were grim times for women at home, many of whom worked in munitions factories, aircraft factories and other traditionally male dominated jobs. These jobs entailed daily wearing of clothing that was not particularly glamorous. Apart from evening dresses, it was rare for women during the war years of the 1940s to get a chance to feel feminine – Spring was one of those times.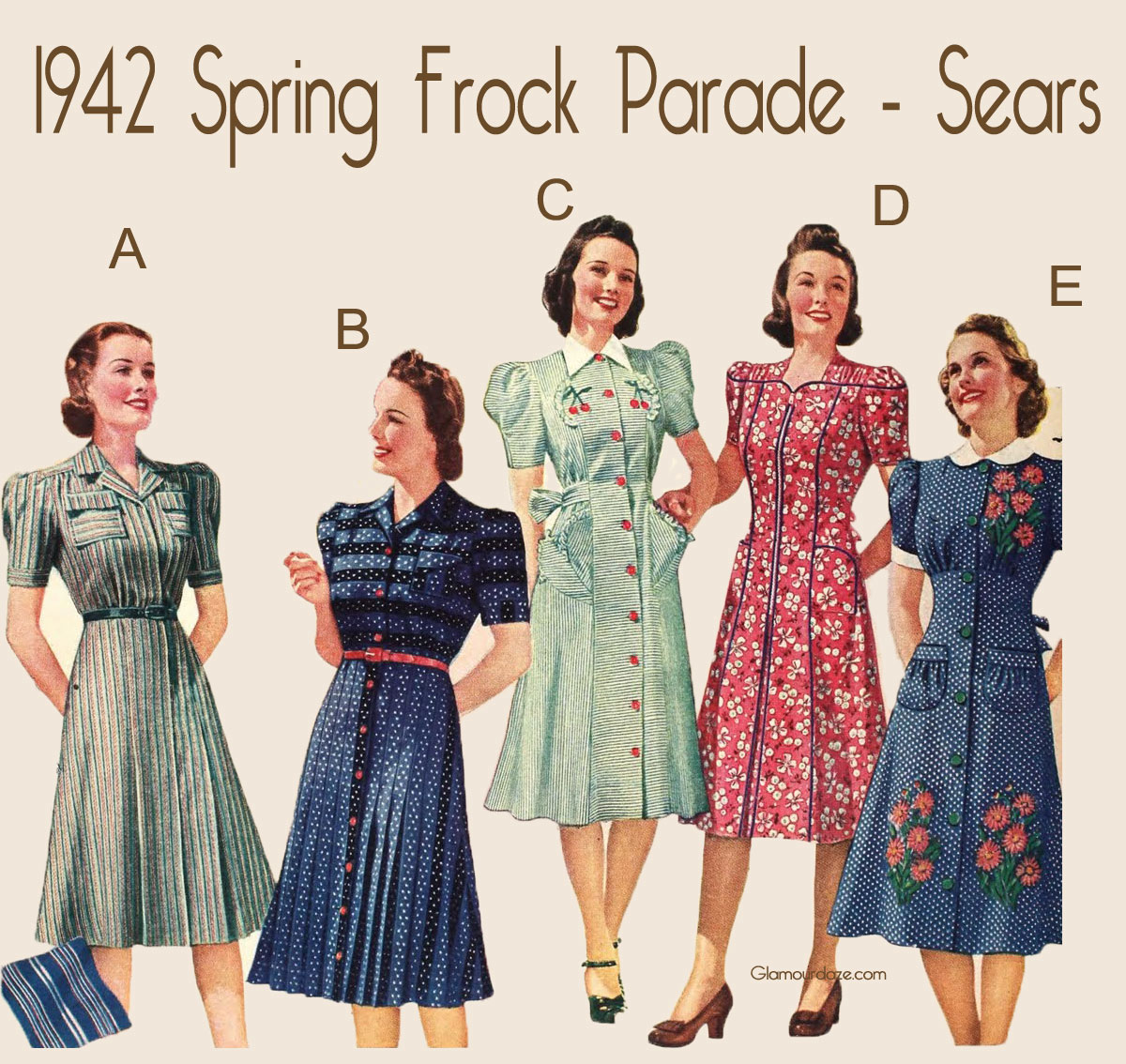 Click Image to enlarge
1940's Spring Dresses Parade 1
Clean-cut young coat dress in a slimming stripe. Fly front, concealed button closing and flap pockets are quality details.
The shirred yoke back allows free action. Simulated leather belt. Color detail – deep Copen with white and red stripes or Aqua green with white and navy blue stripes.
"Style and quality come first". Both are evident in this smart button-front early spring dress in a slimming new, two tone floral stripe. Shutter pleated skirt! A top quality cotton poplin and leather-like belt.Color detail – Copen with navy and aqua blue wine stripe design.
"We want cottons with as much 'oomph' as our date dresses" – say many young women. This princess button-front dress style has it! Sleekly striped, colorfully appliqued with ripe red cherries. So cute. White collar, ruffled cone pockets and flare skirt for added flattery! Color detail – navy or green, each with white stripes.
"I like a cotton poplin floral because it's dressier!" says Penny. So it is, in this neat young princess style! Crown zip which closes in seconds. Bright corded piping, tie back sash. two handy pockets. Color detail – Rose or Copen ground with aqua blue lining and white floral pattern detail.
"I want something out of the ordinary" say many of our customers. here you have it in a new coat dress with fresh white polka dots and daisy bouquets printed to look like applique. Color detail -open blue and rose.
sses
1940's fashion – spring frocks paradeClick image to enlarge
1940's Spring Dresses Parade 2
Two Piece Dress with cut jacket, buckle-back belt. Swing gored skirt. Great value and easy to wash Percale.
Color detail – Rose with Navy Polka Dots and Binding.
Floral detail on a Copen Blue Ground Dress with waist bow applique and lace collar.
Chevron Stripes in stunning 8-gore skirt, collar and cuffs. Red buttons and belt.Color detail – navy and White – a dream.
Floral print Percale on Copen blue frock. Large buttons feature, novelty pockets, full skirt with tie back belt.
So that's it – a typical display of 1940's spring tea dresses – courtesy of Sears catalog of 1942.
That's all !
©Glamour Daze