The Golden age of Hollywood make-up –
by Gabriella Hernandez – founder of Besame Cosmetics.
Excerpt from her book Classic Beauty – presented on Glamourdaze.com with kind permission.

Gabriela Hernandez highlights the Six Top 1930s Make-up Tips for achieving the 1930s face.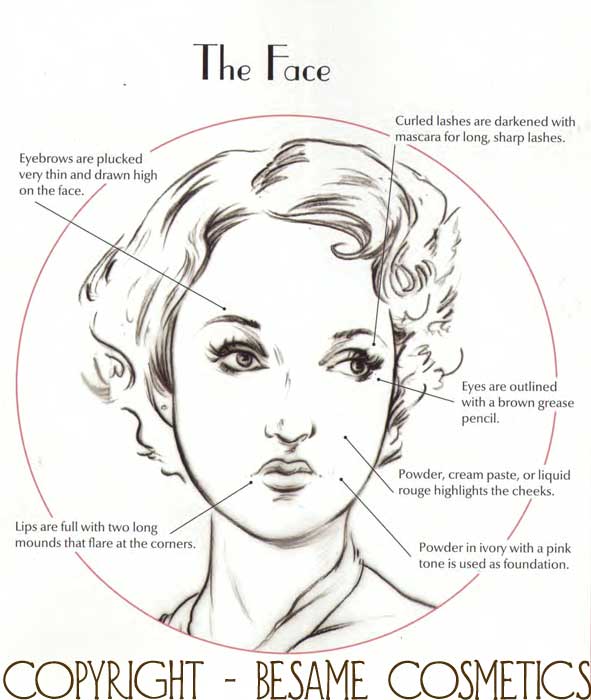 Eyebrows are plucked very thin and drawn high on the face.
Curled lashes are darkened with mascara for long, sharp lashes.
Eyes are outlined with a brown grease pencil
Powder, cream paste, or liquid rouge highlights the cheeks.
Powder in ivory with a pink tone is used as foundation
Lips are full with two long mounds that flare at the corners.
The 1930s Make-up Color Palette.
1930s Makeup style – The Main developments.
1930s Eyes
Eyebrows are plucked to be thin or are shaved off completely. The new brow is drawn as a thin line that arches down toward the temples. Olive oil or petroleum jelly is applied on the brow for a shiny finish.
For daytime, the eyelids are worn with a coat of petroleum jelly. Lashes are coated with mascara. For evening, shimmer shadow is used on the upper lid with a dark shadow blended on the crease of the lid to create deep-set eyes. Cream shadow in many bold colors is popular. As the eyes are kept more natural, kohl liner loses popularity. Dark brown pencil is used to softly line the top and bottom lids without joining the lines on the outside corners of the eye.
Brown or black mascara is used – popular brand being Maybelline. Henna is commonly worn to darken the eyebrows and lashes. False lashes on the outer corners are used to create a heavy lid effect.
1930s Lips
Lips are painted with a brush to create a longbow effect for the top lip and a smaller bottom lip. This style is called the rosebud mouth or the cruller. The top lip is slightly overdrawn and shaped into long mounds that flare at the corners. Lipstick is used from a tube or with a brush for a more precise application. The pasty nature of lipsticks requires the color to be blotted after applying!
1930s rouge
During the early thirties, rouge is used sparingly if at all. Later in the decade, light applications of pink and raspberry rouge in cream, paste, or liquid are applied high on the cheekbone. Rouge on the upper cheek in cream paste is used before powder, with more powder on top to soften the color. An extra touch of rouge high on the cheeks is used to accentuate the eyes. Powder rouge is applied after the first coat of light powder.
That's all !
©Gabriela Hernandez.
Classic Beauty – History of Make-up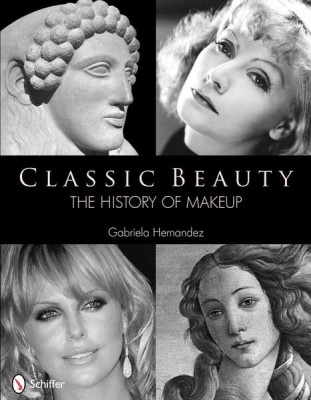 Read our original review of Classic Beauty – The History of Makeup
Download direct to your phone, beautiful vintage makeup guides.
Related articles across the web