Glamourdaze chats to Fleur de Guerre  vintage style model and authoress of 'Diary of a Vintage Girl'
The vintage fashion blogosphere is certainly a strange country, populated mostly by women who have a distinct penchant for the 'feminine', but with an attitude that says sweetly but clearly 'mess me with me and you're dead !'. Glamourdaze have several favorites including –Lindsey Lane -Vintage Rose, Amanda Lee – Jitterbug Doll , Ashley of Lisa FreemontStreet Candice DeVille of Super Kawaii Mama – and – well the list goes on. But one name and one face has always arrested me and that is Fleur de Guerre of Diary of a Vintage Girl.
She is a successful vintage lifestyle blogger,  models for a wide variety of vintage fashion and beauty brands such as Besame Cosmetics, and  Heyday [ they've even named dresses for her.] and can be seen out on top secret style missions with her six glamorous London pals collectively known as  The Vintage Mafia [ Jeni Yesterday – blog: Yesterday Girl ,Naomi Thompson – author of 'Style me Vintage', Lisa Prest – blog: Snoodlebug Vintage, Gemma King – blog: Bake do & Mend, and Bethan Gwenllian.].
The girls describe themselves as " a group of dangerously well-dressed gangster molls with a penchant for strong liquor and decadent fun!".
Fleur's pale white English girl look of the 1940s is a refreshing normal alternative to the often garish so called 'retro pin-up' look which we see everywhere. Through her lively and informative posts on style, Fleur loves nothing more than helping other women bring some good old-fashioned glamour back in to their lives. We're delighted to meet this stunning lady and learn a little about what makes a vintage loving girl tick. Enjoy!
INTERVIEW WITH FLEUR DE GEURRE.
GD
You are well known now as a vintage style enthusiast who evokes the 1930s and 1940s era with the kind of grace that we only see in those old glamour magazines. At what age did you begin your interest in 1930s/40s period clothing ?
Fleur –
I was 24 when I started seriously researching vintage clothing and hairstyles and started buying genuine vintage. Before that, I was more psychobilly/alternative.
GD-
What in particular moves you about the 1930s and 1940s era in style ?
Fleur –
I just find the clothes, styling and accessories, as well as the design generally, of that era to be more aesthetically pleasing than any other!
GD
Fleur, apart from your considerable reputation as a vintage style columnist and blogger , you seem never to be out of work these days as a model, from glamorous shots of you promoting Besame Cosmetics famous red lipsticks to having an authentic 1940s wrap dress named after you by Heyday – The Fleur wrap dress! How did you start out modelling?
Fleur –
I was acquainted with someone who had found out about a lady offering free photo-shoots to launch her boudoir photography business – I was one of 12  ladies to receive a free shoot! I didn't really know what I was doing, but I enjoyed myself and was pleased with the photos. I then booked a shoot with the (in)famous Tony Nylons… the rest is history! I did it for fun and for portfolio pictures at first, it was only much later that I started getting compensation and people seeking me out to work with me.
Vintage-Flower-Fields-Fleur

GD
Where do you shop and what catches your eye when you are browsing for vintage?
Fleur –
Only ever online. I look for bright colors, novelty patterns and often wrap styles as I know they'll fit. Then the basics – fit, length, quality, etc. No point finding something amazing if it's too short or full of holes!

Fleur de Guerre wears two Fleur summer dresses – at Kings-Ginger-promo and Imbibe Live
GD
Are you ever styled by vintage stylists like Naomi Thompson [ Fleur appears in her book Style Me Vintage ] ?
Fleur –
I don't, no. Naomi is a friend of mine, but she's never dressed me for a shoot. I tell a lie, because actually, I met her when she was lending clothes for a fashion show! But that was back in the mists of time, I never work with stylists now.
GD
Do you wear authentic vintage clothes at all or do you prefer retro style clothes?
Fleur –
Of course – I have lots and lots of vintage. I do favour retro style clothes for winter and for everyday work wear though. Summer, I'm more likely than not in a vintage dress.


Fleur de Guerre—-red,-white-and-blue-Fleur-dress.
GD
We interviewed vintage designer Anushka Tay recently about her project to recreate a 1930s Joan Crawford suit. She happened to mention that though Mad Men actress Christina Hendricks chooses to wear genuine period undergarments under her dresses to help her 'be in the part' – Anushkas model wore modern day – albeit retro foundations, and the effect was just as authentic in her mind. Does wearing vintage style undergarments enhance a period outfit for you or does it matter?
Fleur –
I don't wear either genuine or retro undergarments I'm afraid! A What Katie Did suspender belt in winter is as close as it gets, never girdles, cinchers or pointy bras.

GD
No respectable woman in the 1940s would have ventured out after breakfast without a full face applied , do you follow this daily ritual and what does it involve?
Fleur –
Nope. Most mornings I can be found applying my makeup on the train, I value the extra minutes in bed too much. I heard recently it's illegal to do that in Japan. The same actually goes quite often for breakfast itself, come to think of it! Sorry… ;) My everyday makeup is quite simple: under-eye (and wherever else needed) concealer, mineral foundation, blush, eyebrow pencil, two basic shades of eyeshadow, liquid liner, mascara. It takes me 10 minutes, even on a moving train. I apply lipstick when I have an occasion to – it used to be every day and it will probably be again… I go through phases.

Fleur de Guerre -The-Vintage-Mafia-Girls.

GD
Many 1940s women had a beauty routine before retiring at night, do you follow any?
Fleur –
I follow a vintage-ish routine at night. I use a cream cleanser – sometimes cold cream but more often an organic one – wash my face, apply the cleanser and wipe off with a hot flannel. I then use pure witch hazel as a toner and apply a night cream and eye cream. All are either as plain as possible (eg Simple) or organic (eg boots Botanics). Not using things with too much rubbish/chemicals in is important to me, but not particularly for vintage reasons. I guess it turns out quite vintagey by default!
GD
Have you any particular makeup brands that you would recommend for – say achieving a 1930s look or for a 1940s look or is it all down to the method of application?

Fleur –
The latter. Obviously brands like Besame take out the research/trial and error, but I mostly use Rimmel and Mac, or Boots no 7, not especially vintage in styling or ethos (though some of the mainstream brands have been around for a while). It's all about knowing what you're doing.
GD
What is your favourite hairstyle and how do you perfect the Fleur de Guerre look?
Fleur –
On a daily basis I either have my hair simply down with a side parting and curled, or I have it up in a top knot made with one of those bun-makers. It's not vintage, but I do often stick a flower in it! For nights out, the victory rolled up-do with a load of flowers on top is my default easy style. Today I'm wearing a headscarf because I haven't washed my hair for three days… which is pretty vintage ;)
GD
Do you belong to any vintage social clubs or do you get much time for that?
Fleur –
I used to go to the New Sheridan Club once a month, but I haven't been for a long time. Must change that!

Fleur de Guerre-New Sheridan Club-Image by –Elisabeth-Blanchet
GD
Do you live a vintage life at home as some enthusiasts do?
Fleur –
Definitely not. I have art deco sofa and furniture, a retro-ish bed and soft furnishings etc, but I am not a living history enthusiast. I'm probably lounging in leggings, on my MacBook, on said sofa.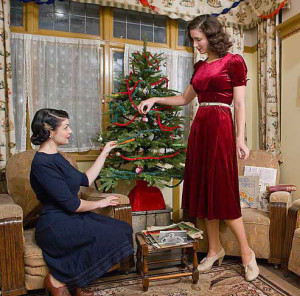 Fleur de Guerre and-jeni-yesterday-1940s-christmas-fashion
GD
You did some modelling last year with your pal and vintage kindred soul Jeni Yesterday for the Imperial War Museum  in an exhibit that recreated a 1940s war time home at Christmas . You and Jeni looked like you had a ball. Do you feel in any way spiritually connected with women who lived through the Blitz years?
Fleur –
Not at all. I can't even begin to imagine what they had to endure. It's beyond our soft modern sensibilities. Even the rigors of everyday life in the blitz without our modern conveniences. It's not something I can identify with.
GD
What are your plans for the coming year – both social and professional?
Fleur –
Lots more writing, lots of events, lot more fun!
GD
Finally Fleur if you were to be ship wrecked on a desert island and you were allowed one suitcase of vintage luxuries to take with you – what would they be?
Fleur –
I think vintage luxuries is something of an oxymoron – I'd probably rather have something modern and useful like a GPS tracking device and a large amount of suntan lotion… ;) Sorry, what a dull answer, ok – a load of lovely vintage bikinis and swimsuits. If I must be marooned on an island, at least I can look like a babe while there!
GD
And why not ! – thanks so much Fleur for talking to Glamourdaze and best wishes to you and yours for 2013.
On the subject of Desert islands – Ardal O Hanlon [ Dougal from Father Ted ] was asked the same question. "I was on Desert Island Discs with Sue Lawley. She asked me for two books I'd take with me to a desert island, and I didn't like the threat implied in that question. I said that the first would be a big, inflatable book, and the second would be "How to make oars out of sand"
Interview copyright 2013 -Glamourdaze.com