Lost photographs of Edwardian London and Paris Street fashions in 1906 .
by Edward Linley Sambourne – The Edwardian Sartorialist
A wonderful set of fashion images found via Retronaut from The Library Time Machine,  the Kensington Library blog curated by Dave Walker. A leading Punch cartoonist at the time – no doubt Linley Sambourne took photos to help him with his sketches as the image below of his wife Marion modelling shows.

As Walker points out – these images are uniquely casual.
They truly look like they were taken yesterday – despite their age.

Before the 1900's, women's corsets were boned instruments of torture, that belong more in the Tower of London than on a woman's body. While the waists, by today's standards, were still impossibly tiny ; the new straight front replaced the skewered waistbone, and when it was found that it improved the natural grace of a woman's movement, it was quickly adopted and thus in response, skirts became softer and made of more supple materials, though still fitted tightly to below the knee and then spread into a flowing train.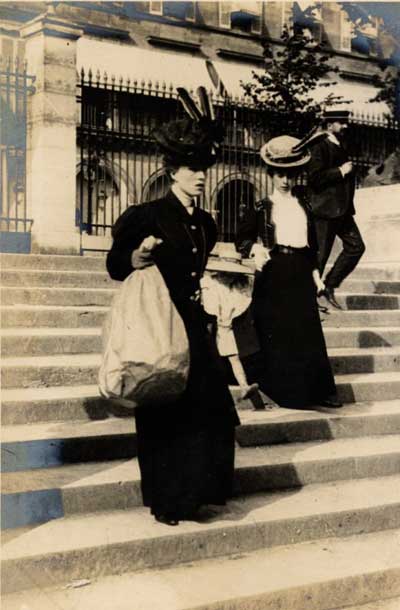 By 1906 the train was gone and skirts began to rise above the ankle as well as lose their tight fitting corseted look. Edwardian fashion was a new casual style that is still very pretty to look at – as these Sambourne images testify. Sleeves were puffed at the shoulders and slim from the elbows. Lacy frills appeared on blouses .The shoulder line dropped. A drooping puff at the wrist helped to mark out the new silhouette. Thus the ' Gibson Girl' was born – a confident athletic, graceful woman. The straight front of the corset, with its move towards health, and the increasing charms of naturalness opened all eyes at last to the attractiveness of being natural!