British fashion models in training 1944 ! –
As with all those early 1940s Pathe newsreels – the insert for women was ..ahem .. delivered by a nonplussed sexist male narrator. Here we see a group of typical fashion models of the 1940's, learning their craft.
No these girls are not in training for the Olympic games, they are learning to be fashion mannequins. One day they'll be displaying the latest models in one of the famous fashion houses. But before that day comes they have a lot to learn !
First they must get their figures perfect. Come on, pull it in there ! That waist must be just right to show off clothes to the public. She must also learn to hold her arms without growing tired or at least without showing it.
The most important point is to hold the posture correctly. This makes all the difference between grace and awkwardness so it's worth getting it right.
The other pupils watch closely. On feet that know the tricks, shoes can look twice as attractive.
Unlike other women, mannequins carry books on their heads as apposed to 'in' their heads.
This is to teach the girls deportment. If the book falls off, they lose a point.
Now the experience mannequin is going to show the girls how to walk gracefully and .. a very tricky business this .. how to manage a fan properly.
Ever wondered how mannequins manage to change so often without losing their hairstyle? Here's the secret ! With a covering on their head they can still get in and out of their clothes and still look as if they've come straight from the hairdresser.
Finally the girls stand back and watch the trained model showing off the latest bit of nonsense for the head.
Now available direct to your device – vintage 1940s hairstyle guides plus a bonus 1940s beauty guide !!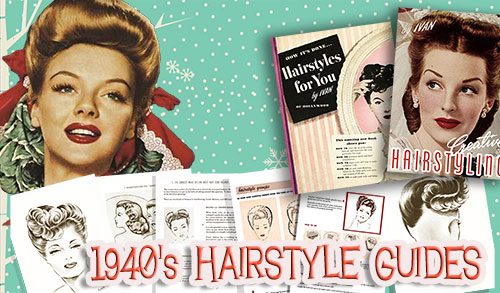 That's all !
Text©Glamourdaze 2016
See the original Pathe newsreel – School for Mannequins 1944