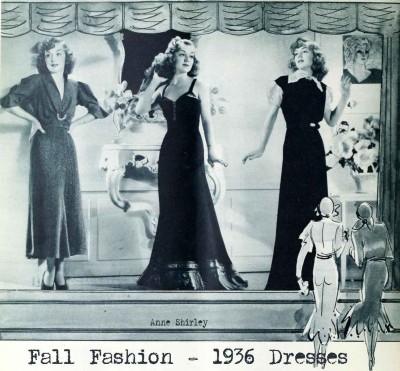 1. Very becoming to Anne's coloring is this classic 1930s dress in a new soft blue, shot with metal threads.
Note the smart low neck, so generally flattering, and the jeweled clasp.
2. So popular are borders in the new fashions that this dress is important! It is of black crepe with green metal cloth border at neck and skirt hem.
3. Even a girl as young as Anne Shirley loves a sophisticated black velvet dinner dress. Here the collar and short sleeves are of lace, encrusted with Soutache braid. A jeweled pin lends sparkle.


4. Lace is important this year; therefore Anne has chosen it in black for a dinner dress. Chenille dots are embroidered on the cobweb surface and a black velvet ribbon starts at the neck and continues down the front and round the hem. Square cut jeweled buttons add brilliance.
5. This Persian metal tapestry tunic may be worn three ways: with a short black crepe skirt; over a dinner dress; or used as a jacket for evening wear. Typically youthful in cut. Anne loves it for its fashion rightness !
That's all !
©Glamourdaze.com 2014