Move over Lipstick –
Eye make-up is the big beauty news in 1950 –
As the world bid farewell to the 1940s, Life Magazine looks at the new French import of the doe-eye or "L'oeil de biche" ( eye of a deer) make-up look of 1950 –
WHEN word came from Paris earlier this year that French models were wearing exaggerated make-up on their eyes even with street clothes, the U.S cosmetics industry realized that here was a chance to exploit a comparatively untouched region of the American female face. While the last decade was exclusively about lipstick, it appears that the 1950s makeup look will be all about eyes.
What the industry has offered the US woman is the doe-eyed look. This makeup look created by applying eyebrow pencil, shadow and mascara in truly 'theatrical' amounts, producing an obviously 'made-up' but pleasing, feminine and flattering look.
Doe eyes are already to be seen on Fifth Avenue – visible at some distance too ! The latest craze of short shingled hair – a throw back to the Hollywood looks of the early 1930s, is very much complimented by this new eye makeup look.
The result is a 'brand new', post-war modern look for women.
Oddly enough – it is Hollywood which is being the most reactionary, they who resisted short haircuts until defeated, and now insisting that the 'doe eye' will set things back 50 years. However cosmetic makers disagree.
They still recall the furor caused by the wearing of the new 'lipstick' by the flappers of the 1920s, until women actually felt undressed without their little red push up friend.
How the new eyes go on –
1950 Eye-shadow.
Shadow on the lid blends from the center of lid out, with color heavier toward your temple for a wide-eyed look. Lighter tone can be blended up to your brow line
1950 Eye-liner – upper lid.
Draw from the inside corner of your upper lid just above the base of your lashes, fanning upwards at the outside corner, to look like a continuation of the lash.Then feather up the lower lid in a parallel line ( tapering towards but not joining)
1950 Eye-liner – lower lid.
The lower lid is drawn from inside corner just beneath the lashes.A deep brown pencil is usually preferable to black except for very dark brunettes. As shown above, continue this line along extended upper line in a parallel fashion – but tapering slightly towards each other.
1950 Eyebrow.
Your brows are darkened by feathery strokes of pencil.
1950 Mascara.
Generally used for evening makeup mascara finishes the look by being applied on the outer upper lashes. Be generous for this completes the batting eye look.
The Finished 1950 Eye Look.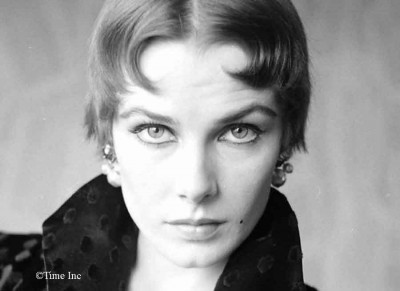 Photos by Gordon Parks | Herbert Gehr
originally published in Life Magazine – 30th Jan 1950
Images – Google Cultural Institute
©Time Inc
Transcription ©Glamourdaze.com
Get instant download of vintage make-up guides.