Full 1940s Makeup Look Tutorial – Gemma Clifford –
We got sent a lovely makeup video from a new vintage pal called Gemma Clifford. She has a new YouTube channel destined for great things if this 1940s inspired makeup look tutorial is anything to go by.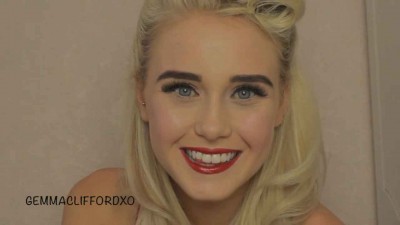 You can watch the full tutorial here and read the transcription, but do go to YouTube, and give her some subscription lurve.
Gemma was recently invited to a murder mystery dinner and her character is a Spanish cabaret star – hence the 1940s look.
1.Gemma stresses the 1940s beauty notion of having flawless but natural looking skin. She starts with a primer to get rid of imperfections.
2. Next up is foundation – Gemma uses L'oreal True Match – her own choice.
3. The foundation finish ( albeit the Hollywood version) was matte. Gemma uses Rimmels "stay matt' pressed powder.
4. Gemma now 'cheats' a little and uses some Maybelline 'Eraser Eye' concealer for under and around her eyes – setting it with same powder as before.

5. Next is rouge and Gemma employs MAC's Love cloud shade – a very nice pink rose color. She highlights her cheeks with Mary Lou Manizer.
6. The 1940s natural eye look is achieved using a Rimmel black brow shade and Gemma blends this out with a MAC 212 brush.
7. 1940s women fixed their brow color with vaseline ( and their lashes). Gemma uses Anastasia Beverly Hill clear brow gel.
8.For eyes, Gemma primes with MAC paint pot, then for shadow she uses Loracs Pro palette – the cream shade – and taupe shade for defining. Eyeliner is applied to the top lids with a slight wing. using Maybelline gel liner – shade of black – and applied with Sigma eye liner brush. Followed by applying EyLure No.100 false lashes. Gemma finishes with applying Rimmel nude pencil to the lower eye water line.
The 1940s Look so far:
9. Now the fun part – adding that glam red lipstick of the 1940s. Gemma starts by lining her lips with MUA Intense Color lip liner in the shade – Red drama.
For lipstick Gemma uses MAC in the shade Cockney. Gemma also suggests using the earlier concealer to tidy up the lip line.
Viola – the finished look:
Well done Gemma – very enjoyable tutorial. Please like, subscribe and comment on Gemmas YouTube channel.