Hollywood stars model the latest modes for Christmas 1941 –
 Gwenn Walters reports for Glamourdaze.
QUESTION: What would a girl like for Christmas? Answer: A hostess outfit like this one designed by Earl Luick and worn by the demure Joan Bennett of 20th Century Fox. An all over quilted coat of brown and white checked rayon, silk buttons trimly over white crepe pajamas that have a bias check stripe running down the sides and matching bands on the blouse. The coat flares out in a clever little line, the pajamas follow suit; the whole outfit is perfect for all-around the clock!
QUESTION: What makes an effective 1940s afternoon dress? Answer: A bright color plus simple lines. This dress, designed by Edna Vilm, is of red rayon faille, and worn by Joan Bennett. The drape is ingenious; the bodice the type that flatters any figure. For Christmas partying, Joan wears a little hat of bright red velvet roses; for her war work meetings she goes smartly serious in a big brimmed hat of black velvet.
QUESTION: How does a girl make her Christmas date come back for more? Answer: She wears a black faille silk and rayon dress with sheer yoke and sleeves like Joan's choice from Demoiselle. It does triple duty – it looks pretty, is just as practical and it's a male compliment catcher.
YOU have to be a juggler to be smart this season. Start with a basic dress for day and evening, top it with a jewelled jerkin and presto – you're a new and fashionable woman.
Beautiful Kay Aldridge joins a beaded jerkin of vivid red Celanese rayon crepe to a simple black crepe dress that stands up on its own.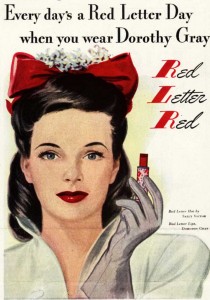 The vivid red of her dress is matched by Dorothy Gray Red Lipstick.
On the right, Kay's red, red jerkin wears a gleaming border of coal-black sequins in sparkling contrast to the slim black fly-front dinner dress beneath that relies on liquid lines and a seductive slit at the hem to make it exciting on its own.
For fashionable 1940s makeup , Kay wears a matched Tangee Gay Red lipstick
From the California label comes this cute 1940s afternoon dress worn so becomingly by Ann Rutherford. It's teatime and Ann's taste runs to rich, vibrant "mink brown" in a tucked crepe dress that says "fine dressmaking" as unmistakably as though it wore a printed label. California calls the exquisite detail that releases fullness to the skirt and decorates the yoke "codfish tucking." The flattering push-up sleeves are American fashion favourites everywhere.
From PennyWise – aren't these teatime dresses just so sweet? Wanda McKay to the left, appears in a black Celanese rayon crepe pinafore dress with a lacy openwork yoke and sleeves and deeply shirred pockets on the skirt. Lilian Cornell stakes her all on sequins – buttons, sleeve bands and tabs aglitter on her black crepe shirtwaist dress.
Pretty Peggy Moran singles out this Cafe crepe dress made of Enka rayon by Nelly Don to wear for tea in town whilst out Christmas shopping. Dictates of a brand new silhouette are the deft shirring of the torso top, the slanted shirred pockets, the flattering curve of the sleeve gathers. Such fashion perfection!
Finally in winter coats, Ann Morris chooses cuffs and collar of leopard to accent her simple black needlepoint Swansdown reefer. Barrel sleeves and buttons to below the waist are earmarks of what's new and smart for coats this winter season.