The latest report from our time traveling fashion correspondent Caroline Van Wycks – from 1926. The big craze this year was The 1920's Flapper Turban!
ZW4MPKGBYHPC
The movie stars are all doing it, so we got directions for making this charming and inexpensive headdress for your own use.
Step1.
First, take a piece of soft, pliable silk – 36 inches wide, a yard and an eighth long. On the length of the silk, measure the depth of your head from forehead to neck. Leaving this length untouched, cut the remaining entire length in half.
Shirr the edge of the uncut piece to hold the turban across the top of your forehead.
Shirring means to gather (cloth) into decorative rows by parallel stitching!This done, now follow the directions as illustrated.
Step2.
The second step is to cross the two pieces of silk in the back, one over the other toward the front.
Step3.
Position three gives you the chance for a coquettish pose, and also time to drape the left hand piece across the from of your head.
Step4.
Drape the right piece over the left and so finish the front.
Step5.
Now do a little work behind your own back. Pull the turban tight to prevent a slightly groggy look. tuck the ends neatly under the edge.
Step6.
You'll look as Miss Doris Kenyon does here – that is, you will if nature was good to you and gave you such beautiful features.

Here's the lady who started the vogue in Hollywood, Natacha Rambova, erstwhile Mrs Valentino. the attractive Natacha always wears a turban, and you'll agree she wears it beautifully.


Perhaps you'll look like Aileen Pringle in hers, or maybe you'll look like Peggy Hopkins Joyce and grab yourself a multimillionaire husband!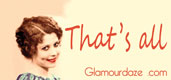 Originally published in Photoplay – 1928
Many thanks to The Media History Project – for sourcing,scanning and preserving these wonderful articles.
check out 1920s fashion – Womens dresss and Style.