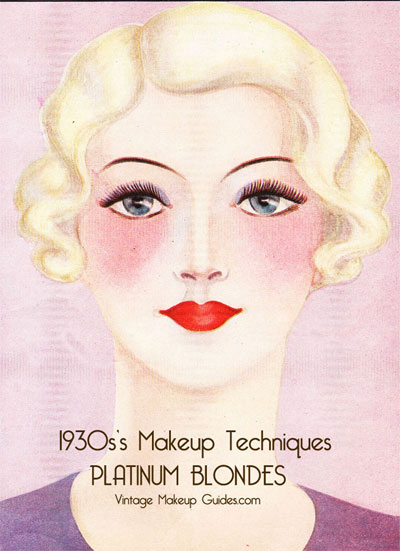 1930s Makeup Techniques – The Platinum Blonde Look.
Excerpt from Makeup & Beauty – 1930s Makeup guides
The "platinum blonde" is an artificial blonde. She is the delicate type and her hair, through treatment, has a bluish white color that Hollywood stars have made famous. Dark brunettes, as well as ash blondes, have become light blondes enjoying the contrast of a dark complexion and dark eyes with the very light hair. The keynote of the light blonde make-up is contrast in powder, rouge, lipstick, mascara and eye-shadow.
Cosmetics for the Platinum Blonde:
Because of the blue and white lights on platinum blonde hair, you should choose vivid cosmetics which will bring out the color of your hair, eyes and complexion.
You will find a bright red rouge like American Beauty will form the desired contrast with  the light hair color. Rouge tints, however for a brunette who has turned artificially blonde may have to be deeper than this particular shade.
Lip colors must be chosen with reference to the rouge for it should vary only in intensity. The lipstick should be American Beauty too and used heavily. If however the mouth is large, beware of over coverage.
You should be sure that the powder you use has enough life and color in it to contrast with your hair and give a young appearance.
Choose the eye-shadow that is nearest the color of your eyes. For the blue- eyed blonde – blues and greys are used. For the brown-eyed light blonde – use browns and purple shadows! In the evenings you may use eye-shadows that have flecks of gold and silver through it.
The color of mascara you use with this make-up depends on the natural color of your lashes.You may wish to use a brown mascara to match your brown eye-shadow if your lashes have a brown tone. If they are black then by all means use black or blue eyebrow pencil and black, blue or purple mascara on your lashes.
How to makeup your eyes.
If your eyes are far apart use a little round dot of rouge in each corner of the eye near the nose. The dot is almost as small as a pinhead yet it lurks there in the corner of the eye to make it look bigger and more luminous.


Do you want your eyelashes long, black, thick, curling back from the eye to make them more expressive? They should receive as much care
as you give your nails. Smooth olive oil or Vaseline over them at night to encourage their growth. It takes 150 days to grow an eye-lash, so be careful
with each one and train it to grow long and curly.

Constantly brushing the lashes away from the lid, upward, will make the lashes grow back and form a becoming fringe for the eyes to make them look larger and more expressive. before you acquire artificial lashes try to grow your own by giving them loving attention every morning and night – as regularly as brushing your teeth!
To make them look darker and longer during the daytime and evening they may be brushed with mascara in black, brown, blue, green, purple, according to the shade that is most becoming to you.
Visit Vintage Makeup Guide for rare and beautifully restored makeup and beauty guides from the 1920s,1930s,1940s and 1950s.