1950's Fashion – Six Vacation Dresses to pack
Six Summer vacation dresses to pack in to your suitcase. Get ready for fabulous fun, and head for paradise on the Pacific coast.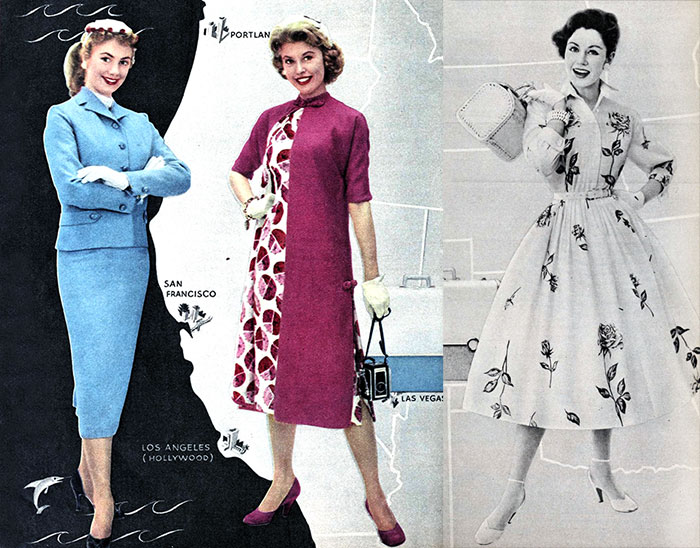 Left: THE EASY SUIT LOOK. Shirley Jones' three part traveler. In sky blue silk wool, flecked with white. It's crisp shantung blouse matched to jacket lining. Madcaps hat, so in mode this season.
Middle: THE LONG COOL COAT. Raspberry rayon linen. Neatest costume en route. Barbara Ruick wears it over its vividly printed Chinese sheath dress. Hat by Betmar. Stetson gloves.
Right: CLASSIC SHIRTWAIST DRESS. A happy take-along. Pat Crowley in elegant ivory cotton. The skirt is full blown and all splashed with rich red roses.
ELEGANT SANDAL, a pale blue kid shoe, vacation-bound. Light, airy and pared away to bare essentials, the draped front touched with a pretty trifle.
Left: SOCIABLE SEPARATES, in a new thin cotton. Pat Crowley pairs the swirling gored skirt, dotted and striped, to its own shoulder-baring camisole.
Middle: WHITE SHEATH DRESS, Barbara Ruick's sheath, the near-perfect kind to take anywhere. This one has deep-throat high bosom line outlined in lace.
Right: PRINCESS DRESS. Belted and strapless, Pat Crowleys pretty Princess dress is in white print etched on black cotton. The flattering shape held via Pellon lining, a boned bodice.
That's all !
©Glamour Daze