Beautiful Vintage Swimsuit Styles from 1936 –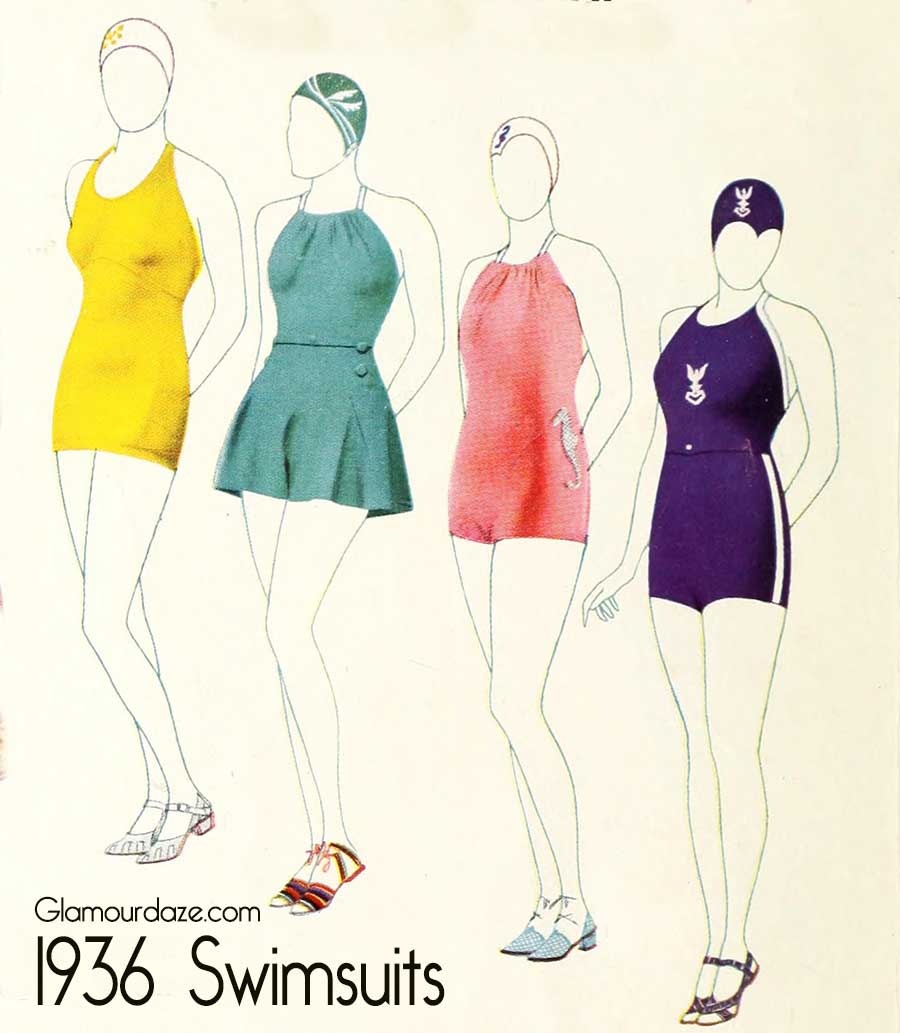 Brighten your whole summer with a complete wardrobe of stunning inexpensive 1936 swimsuits from U.S. Waterwear.
A. A lovely one-piece with fishnet inserts under the attached skirt. A patented Howland watertight cap in the new herring-bone Krepe-Tex. Gay nautical decoration.
B. A two-piece swimsuit in entrancing solid colors, smart flaring trunks and halter neck. This model is supplied with swim girdle. Latex cap in the delightful new 'velvet' texture, with a smart wing decoration.
C. A fetching one-piece model in attractive solid shades. Halter tie. Sea horse inserts of fishnet at sides. A chin strap cap, chic appliqued sea horse.
D. A two piece scarf and trunks model with smart insignia and stripe. Very pleasing colors. The cap is a distinctive appliqued naval insignia in contrasting color.
Hollywood Swimsuits for 1936
This siren is Patricia Ellis, relaxing in an all wool zephyr suit of coral and white. It is triple knit, shadow, shrink and stretch proof. Parallel air cord trimming affords perfect front fit.
Left: White dots on dubonnet are perfect for Germaine Greer's clothing. Knitted in all wool zephyr, her suit had adjustable shoulder straps ending in brassiere tie-back belt.
Middle: A clever cut suit of chenille matelasse stitching worn by Charlotte Russell. The skirt width is exactly right and the shirred neckline treatment enables the wearer to adjust the front of the bodice in height at will.
Right: Excellent for figure control is Irene Bennett's knit swimming suit. The contrasting neck lacing provide a smart uplift effect. The navy and white color scheme is carried out in the smart beach sandals.
Diana Gibson has chosen the new carrot shade in a wide wale ribbed woolen for her swim suit. Matching socks and white shoes.
A citron yellow play suit, built high at the neck, for Marion Talley. Chinese sun hat and striped robe for lounging on the beach.
That's all !
©Glamourdaze.com 2018
Originally published in August 1936 Photoplay