The Art of Colorist Olga Shirnina –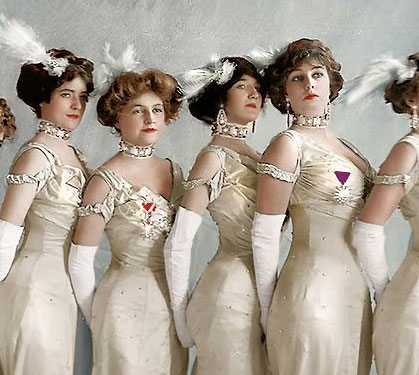 Color Restored Vintage Fashion
There are many apps these days which claim to colorize, with a click of a button, your old black & white photographs,
but these compare poorly to the work of a real artist. I've seen many good colorists over the years, but none compare to the artistry of Russian woman Olga Shirnina, who has perfected it. Working under the name Klimbim, her work has gone viral over the past few years when she began breathing new life into Russian history, from the Romanov family archive to the Red Army. My personal favorites are her colorized portraits of Abraham Lincoln and Che Guevera.
Glamourdaze chooses, of course to highlight her colorizing work on historical photos of women from the Edwardian era, the early Hollywood era and some iconic women from the 1940s and 1950s. While we adore monochrome photographs, and feel they deserve their own place in photographic art, Olga's work has added real humanity to those old faded images from the past.
Edwardian Women in Color
1920s Women in Color
1930s Hollywood Era in Color
1940s Women Monochrome to Color
The most stand out photos for me are those of Fawzia Fuad of Egypt, a beautiful princess who became Queen of Iran and wife of Mohammad Reza Pahlav. She passed away in 2013 and is buried in Cairo.
You can view all her work on Flickr.
That's all !
©Glamourdaze 2018