Christmas Party Dresses for the Vintage Girl –
Well ladies, with the season of snow, red lips and mistletoe coming round the corner, Glamourdaze is taking a break from our time traveling to look at some drool-able vintage party dresses from our friends at 20th Century Foxy.
1930s Charm Dress – Teal Blue
My personal favorite, this dress is available also in red,but we feel this lovely color of teal will make any girl stand out drop dead gorgeous. Its typical 1930s flounces and frills makes it a particularly feminine dress and it really does evoke the glamour days of 1930s Hollywood. Extremely flattering to any figure.
The 1950's Coquette Wiggle Dress
Another fave from the Foxy range is this 1950s wiggle dress in a very nautical blue ( you can also get in black and brocade !) This dress really is so flattering to most body shapes. It accentuates your feminine curves with its stretch bengaline silk which moulds the body beautifully. The clever ruching accommodates most busts and look at that sweetheart neckline ! You can adjust the satin halter ties to suit. What makes this dress really work is the tummy ruching which will disguise any potential bulges from Christmas cakes !
The final touch is the bow at the hip. It is just so feminine and flattering.
Mansfield in Red!
Now this wiggle dress in red can also work as a head turner at the office ! It's just below the knee hemline makes it respectable as well as sexy.Then when the clock ticks over in to evening, slip into the powder room, slap on some Besame Classic Red Lipstick, slip on the heels and do get tipsy on the mulled wine !
Foxy Lady Wiggle Dress
It's easy to see why this lacy stretch brocade dress is a bestseller at Foxy. You really feel like a fox with it on. It's 1950s inspired fashion at its very best. Its wrap and knot bust makes the most of your assets without revealing too much , and of course again that clever hip and waist ruching to disguise the tummy! A really gorgeous dress to step out in this December.
 Dolce Vita Evening Dress – Emerald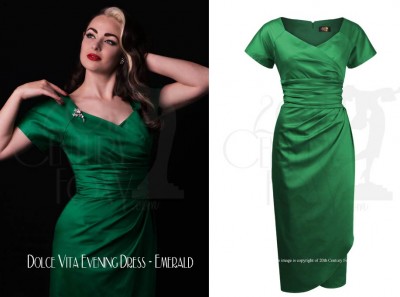 Finally – the brand new 1960s inspired evening cocktail dress. Its named after the Fellini classic movie – La Dolce Vita – the film with the Trevi fountain dancing clip ! And what a drop dead gorgeous outfit it is. Plenty of all important ruching ( why aren't all dresses ruched ?? ) which will enhance your figure very nicely. We especially love the sarong  skirt.
 That's all !
Visit 20th Century Foxy now !