Hollywood Gossip 1926 –
She plays the reckless younger generation – on and off screen. Little Clara Bow got her name in the papers recently when Robert Savage, untamed Yale student, tried to kill himself because Clara wouldn't marry him. In the subsequent trial – everything seems to go to court these days- Robert testified that Clara kissed him so fervently that he was laid up with a sore jaw for two days. And now Clara says that the more she sees of men, the better she likes dogs.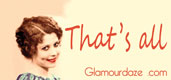 Text copyright Glamourdaze.com 2013
originally reported in Photoplay – august 1926.
Many thanks to The Media History Project – for sourcing,scanning and preserving these wonderful articles.