1950's Evening Make-up Tutorial for Teenagers –
Acclaimed beauty columnist Helen Temple shares a simple guide to evening glamour for teenagers in 1954.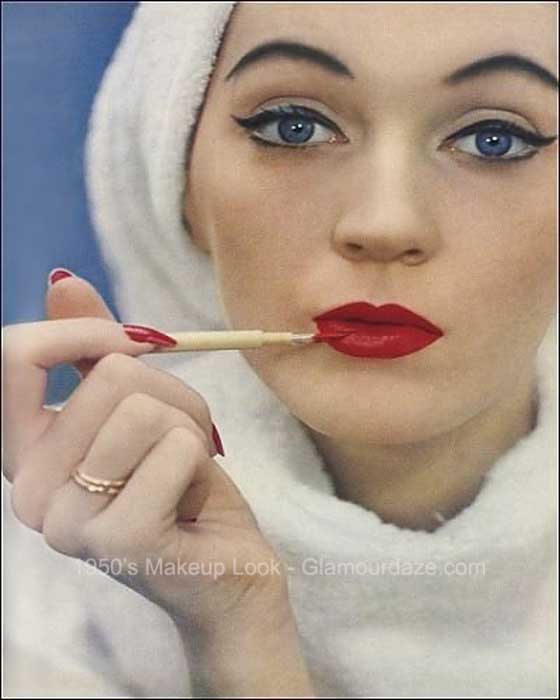 Is this your first real grown up party season? Then follow these nine steps to a lovely, long lasting make-up. Even if you aren't a beginner, you may find my tips a good refresher course for achieving extra special loveliness and glamour for romantic party evenings in the future.
Step1.
First apply foundation cream in tiny dots all over the face. Blend in thoroughly for a minute or so. or, with long strokes, and a damp sponge, apply cake make-up.
Step2.
Apply three tiny dots of cream rouge to each cheek, blending up and out very evenly. Cream rouge goes over cream foundation under cake make-up.
Step3.
Stroke eye shadow close to the roots of the upper lashes, smooth it outwards to near invisibility at the tips of your eyebrows.
Step4.
Press powder over entire face, using a generous fluff of cotton wool. Allow to "set" for a moment. brush off surplus in outward direction with clean cotton wool.
Step5.
If you prefer dry rouge, or if you've been too sparing with the cream kind, use it now. Flick the puff lightly from cheekbones to eye corners, blending edges.
Step6.
Brush eyebrows against growth to free from powder before darkening the brows with short, feathery strokes from a finely sharpened soft eyebrow pencil.
Step7.
Use a spiral brush, twirled between finger and thumb, to apply mascara. Two thin coats, applied with hot water, look smoother than one thick one. Separate your lashes with a clean brush.
Step8.
With a lip brush, draw a beautifully precise outline to your lips, outer corners to centre. Steady your hand with little finger ( dusted with some powder) on your chin to keep line straight, and don't try hurrying this step.
Step9.
Fill in your lips with lipstick, blot, fill in again and blot once more. If lipstick is indelible type, apply gently but don't blot.
Apply perfume to pulse spots and you're ready to face your public.
text copyright Glamourdaze 2013..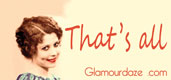 Learn the art of makeup, hairstyles and glamour as actually taught to women in the 1950's.