Five simple makeup steps for the pale 1960s makeup look from actress Natalie Wood.
1.Natalie has pitch-dark lashes and mascaras only the tips – but those thickly!
2.Back in prehistoric times, you had to have naturally curly lashes! Now you can curl them at will.
3.Just a little stroke of eyebrow pencil makes all the difference! Too much emphasis looks weird.
4.Natalie learned this from a makeup artist. 'Brush' on powder for a luminous effect.
5.Orange lipstick goes over crimson for the final lips effect!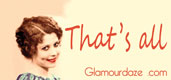 Download beautiful rare makeup and beauty guides from the golden eras.