Excerpt from her book Classic Beauty – The History of Make-up, Gabriela Hernandez shares highlights the Five Top
Make-up Tips for achieving the 1960s face.
1.False lashes are placed on the top and bottom lashes with several pairs on the top lash.
2.Eyes are worn heavily made-up using dark defining shadows [ Aqua,Green or Blue ] over a base of white shadow or cream.
3.Powder blush is used in a narrow triangle under the cheekbones and in the hallows of the cheeks.
4.Lips are pale and outlined with a darker shade of lip liner with the top lip slightly overdrawn. Gloss is used to finish.
5.Cake foundation or cream is used with translucent 'loose' powder.
Color palette of the 1960's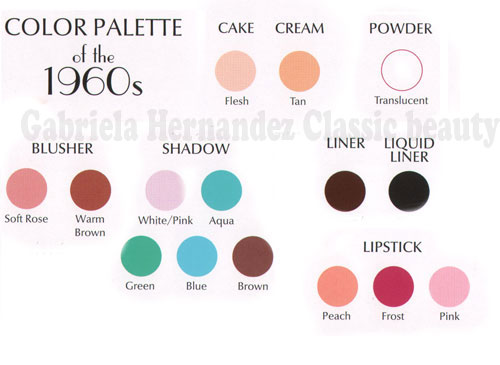 1960s Makeup style – The Main developments.
Eyes are emphasized with heavy shadows over a cream or white base, and thick liners. False lashes in thicker styles are popular for the top and bottom of the eye. Roll on mascara in black or brown is introduced at this time, and a heavy application on the top and bottom lashes is highly fashionable. The eyelid wears heavy liner on top and bottom, and a defined shadow is applied in the socket. Later, Twiggy popularizes drawing lashes under the eyes.
Lips are kept pale with shades of peach and outlined with a darker pencil. the lips are slightly overdrawn and finished with gloss in a pearly shade. A natural foundation that matches the color of the skin is used. Darker foundations are created to match sun tanned skin. The term rouge loses favor, and is re-named blusher ! A warm tan brown shade under the cheekbones is worn to contour the face.
Whatever makeup era you enjoy – you'll adore Besame Cosmetics founder Gabriela Hernandez's bumper makeup book "Classic Beauty". For more previews watch the video below or read our original review of Classic Beauty – The History of Makeup