Glamourdaze takes a peek through iconic vintage glasses worn by movie stars to inspire your hunt for popular retro glasses and shades available today.
Movie stars often used glasses to elevate their screen character. This was especially for comic roles. Chaplin had his walking cane. But the best prop of them all were a trusty pair of spectacles. Harold Lloyd was a pioneer in more ways than one, with his famous round framed frames. Years later, Cary Grant donned the same pair to great comic effect in Bringing Up Baby (1938).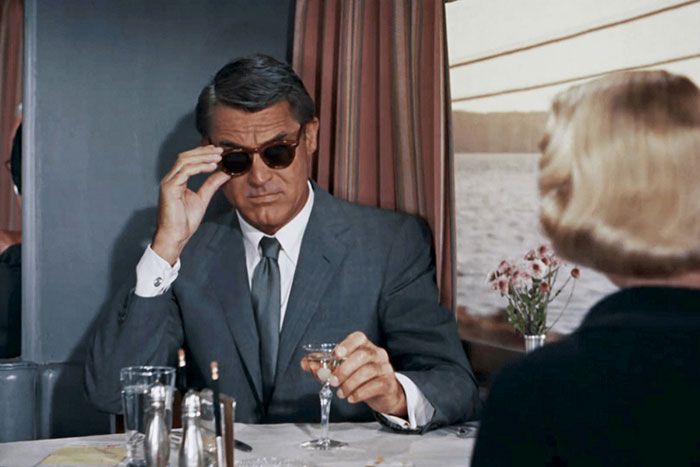 Later in North by Northwest, he was on the run, hiding behind a cool pair of tortoise shell sunglasses. Marilyn Monroe used cat eye glasses to hilarious effect in How to Marry a Millionaire (1953)
Sunglasses have had many movie appearances. From the Men in Black to The Blues Brothers. (Jake only removed his shades once, when confronted by his old flame Carrie Fisher.) Audrey Hepburn's famous opening scene wearing her Oliver Goldsmith sunglasses in Breakfast at Tiffany's. The list goes one
Vintage Glasses and the Movie Stars who Wore them.
But rather than a who's who of famous movie star eyewear, I'd like to share a few of my personal favorite eyeglasses in movies. Some well known and some perhaps forgotten. But all of them utterly chic.
Michael Caine – The Ipcress File
When Michael Caine's unsophisticated alternative to James Bond – Harry Palmer from The Ipcress File 1965, made good use of those Curry & Paxton glasses. Short sighted in real life, it was the first time Caine was able to make a movie without squinting his way around a set.
Dorothy Malone – The Big Sleep 1946
A short scene in a classic movie, but one rarely forgotten. Dorothy Malone makes a temporary acquaintance of Humphrey Bogart. Dressed in a high neck, three tiered cocktail dress, an unusual wardrobe for a dusty bookstore proprietress. But those sexy eyes, hidden behind a pair of wire rimmed glasses. For a few moments, Malone stole the movie from its star.
" You begin to interest me .. vaguely!" A true classic.
Meryl Streep – The Devil Wears Prada 2006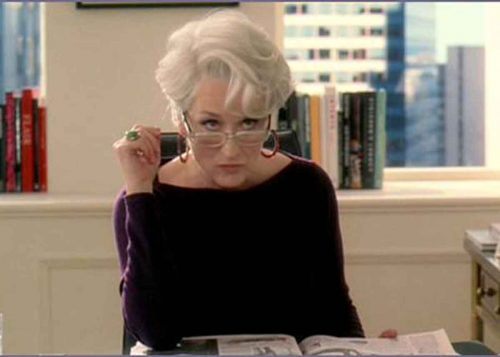 When diabolical fashion editor Miranda Priestly gave you that withering look over her Gucci sunglasses, you knew you were in trouble. A fun book and movie. Those "clack clack clackers" running round the corridors of Runway pretty much summed up the awful world of Haute Couture.
Gloria Swanson – Sunset Boulevard 1950
The comeback of the decade. Gloria Swanson blew the competition away with her visceral performance in Sunset Boulevard (1950). Anachronistic yet fashionable in her cool turban and tea shades.
Joe Gillis
"So you're Norma Desmond. You used to be in silent pictures. You used to be big!"
Norma Desmond
"I am big! It's the pictures that got small!"
Pamela Franklin – The Prime of Miss Jean Brodie
Starring alongside Maggie Smith, Pamela Franklin was more than a match for the fanatical Miss Jean Brodie. Her owlish round frame vintage glasses are employed to great effect.
Ryan O Neal – What's Up Doc 1972
A really funny film by the great Peter Bogdanovich, who really should have made more comedies. A great comic turn by Ryan O Neal alongside an up and coming multiple hat wearing Barbara Streisand. One of my favorite movie performances – with vintage glasses !
Barbara Stanwyck – Double Indemnity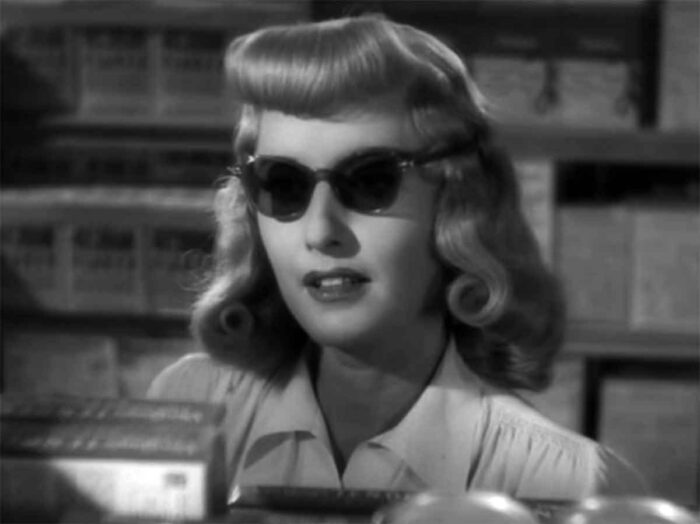 Add a heady mix of moral dubiousness and anxiety with a lethal glass of sexiness and you have Barbara Stanwyck in one of the great film noir classic movies. Barbara's use of sunglasses – inside a supermarket was the ultimate 'bad girl' scene.
Peter Sellers – Dr Strangelove
Time will never dim this scary and hugely funny anti nuclear movie from Stanley Kubrick. Peter Sellers turn as an ex-Nazi scientist now a top adviser to the US president is priceless.
The shades worn in this role add to the menacing undertone of the Holocaust that is to come. Still a must see movie, and scarily relevant again in 2022.
Marilyn Monroe – How to Marry a Millionaire
Altina Schinasi popularized cat eye glasses, branded as Harlequin glasses.
Gary Larson made good use of a strand of beads and a pair of harlequin glasses for pretty much all of his female characters in The Far Side cartoons. In How to Marry a Millionaire 1953 – Marilyn made cat eye glasses sexy.
That's all ! © Glamourdaze.com