Time capsule from 1920s Ireland. Two Irish school girls sing 'as Gaeilge' a song about helping their mammy.
Filmed at a local national school near St Brigid's well in the village of Liscannor, County Clare. May 28th 1929.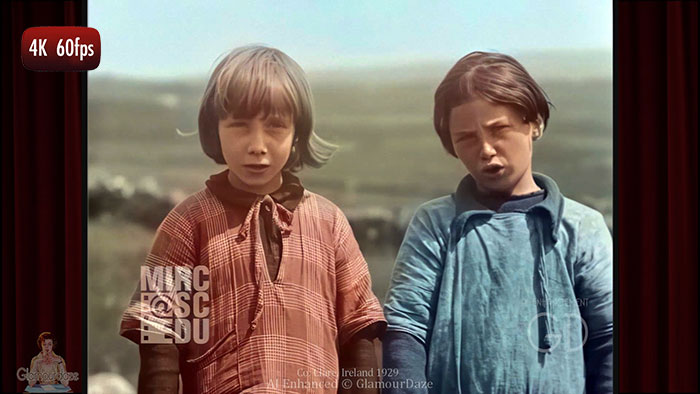 Using AI deep learning techniques, this film has been enhanced, colorized, upscaled and sound restored.
AI Enhancement © Glamourdaze using deep learning neural networks.
Read the paper on Deep Exemplar-based Video Colorization here.
Original BW footage – Irish School Children – outtakes.
By kind permission
Moving Image Research Collection
University South Carolina.
Fox Movietone News Story 2-919
Filmed on May 28, 1929.
The first line in Irish goes as follows:
Déanann Mamaí ciste agus bogaim an cliabhán agus suím ar mo stóilín beag ag ithe canta maith aráin
"Mammy makes a cake and I rock the cradle and I sit on my little stool eating a good chunk of bread."
There's an English language version to this same ditty:
I'm Mommy's little helper
I'm only 5 years old
I've lots and lots of work to do
I do it when I'm told
I sometimes rock the baby
While Mommy does the beds
And then I get my little stool and sing to sleepy heads!
That's all ! © Glamourdaze.com