What Vintage Lingerie Styles are Still Coveted by Fashion Lovers ? Glamourdaze explores the iconic garments that are still with us today.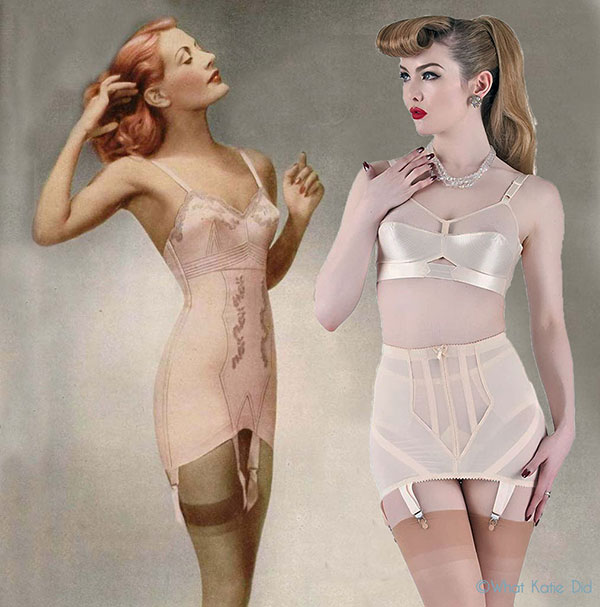 Vintage Lingerie Styles which still prevail
"Real elegance is everywhere – especially in the things that don't show," said Christian Dior. Any avid lingerie collector will know the truth of the famed designer's words.
For Dolce & Gabbana, meanwhile, lingerie is the ultimate expression of femininity; the embracing of womanhood and all its graceful curves.
In the 19th century, the vast majority of designs were painful (think tight corsets) or laborious to wear (remember the wire cages worn beneath vast crinolines and hoop skirts in the 1860s?). Today, many fashion designers look to the past for style inspiration, with current collections often containing elements of lingerie from around the 1920s onwards. The following current trends can be traced back to some of the most vintage underwear designs.
High-Waisted Panties
The Spring shows of brands like Loewe, Sandy Liang, and Gucci saw models walking the runway in elaborate tops and faux furs, pairing these items with high-waisted briefs and nothing else but a pair of shoes. The advent of WW1 brought an end to the ubiquitous pair of drawers (worn under a petticoat and corset.) By the 1930s women's knickers ( a term derived from knickerbockers) evolved into stretchy rayon high waisted panties. Originally worn under an open girdle or panty girdle which had also replaced the corset.
Slip Dresses and Lace-Trimmed Chemises
Worn over brassieres and panties, and under corsets or girdles, the slip protected the skin from straps or buttons.
This basic simple undergarment will never go out of style.
Rodarte, Louis Vuitton and Gucci have all brought slip dresses and chemises back onto the catwalk and celebrities like Sydney Sweeney and Zendaya have taken these outfits to new heights at red carpet events. Rodarte has a particularly sophisticated white satin dress with wide diagonal bands, black lace and a high-cut design that lends new grace to an otherwise minimalistic look.
Chemises were popular in the mid-1920s but they continued to mesmerize in the 1930s, with Clara Bow often donning this sexy garment for scenes shot in her character's home. Joan Crawford, the epitome of perfection, also donned long slip dresses, which she paired with log, flowing jackets. It is amazing to find so many chemise styles from the 1940s and 1050s that are so similar to what you might find in a high-end store today.
Shapewear and Girdles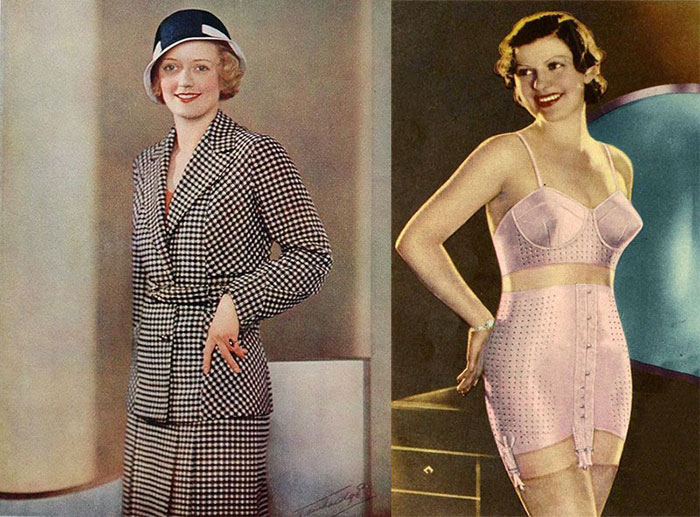 Each era lends its own personality to the world of shapewear. Girdles and corsets evolved from highly restrictive garments using bones and lacing to the softer flexible synthetic alternatives of today.
For instance, the mid-1920s favored an androgynous style in which the aim was to slim and flatten hips. With this new emphasis on hips and thighs, the corset moved aside for the girdle, and later the panty girdle. Today, shapewear is meant to smooth, lift, and tone the body, without wresting from a woman's curves. For instance, wireless bras have a lifting effect that makes them ideal for wearing beneath casual wear and elegant dresses alike.
From the Bullet Bra to Bra Enhancers
Push-ups and underwires have been worn for more than eight decades. In the 1940s, women's brassieres used cone inserts to change the shape of their silhouette. Today, of course, it's all about lending breasts a lifted effect and, if one desires, showing a little cleavage. Modern underwire bras are as elaborate and intricate as lace ones, with many actually containing lace overlays and a myriad of beautiful colors.
"Everything old is new again," goes the saying. However, when it comes to vintage lingerie styles, from about the 1920s onward, styles have experienced various 'reincarnations', often with just a few modifications. From attractive shapewear to delicate chemises, traditional ways of highlighting curves and angles will always have their place in hidden and not-so-hidden elements of a woman's war
That's all ! © Glamourdaze