Part two of our 1950s Makeup & Hair Care Routine. An AI enhanced tutorial film made for US high schools in 1951.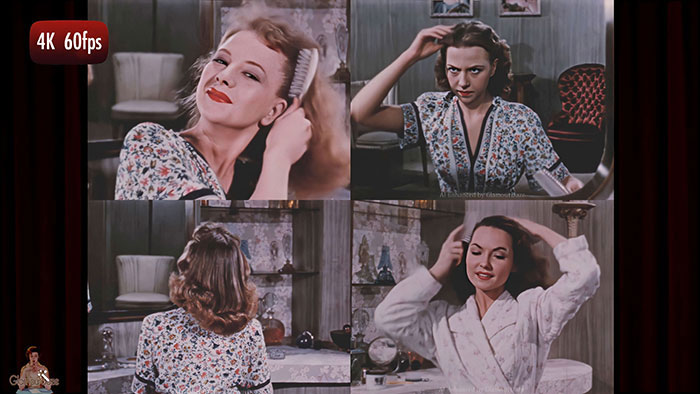 No matter how perfect the rest of your appearance is, the effect will be spoiled if your hair isn't radiantly clean. As in skin care the two most important factors for scalp health are cleanliness and circulation. Hair.
Watch a Vintage 1950s Hair Care & Makeup Routine
Time needed: 5 minutes
Vintage Hair Brushing Tips
Know your Hair

The roots of the hair are as living as body and face skin. Blood must be kept circulating through them, particularly through the roots, the scalp. If the scalp isn't kept clean and stimulated, hair can't be beautiful.

Daily Brushing of Hair helps Blood Flow

To keep your scalp healthy – every single day brush and keep brushing. Not just your hair but your scalp. Get that blood up in your scalp push the dirt off. 50 to 100 strokes – brush from the back of the neck to the hair ends. Then the hair will shine

Brush your Hair after Washing

Start brushing with clean brushes. Brush hair out of doors if you can. Brush it dry after washing it possible. Brushing brings out the natural oil. This is an important part of any hair care routine.

Brush from base to the end of the Hair

Be sure to brush around the base of the neck and to the ends of the hair.

Bend your Head down during brushing

To get the best effect from brushing – bend your head down so that you get a flow of blood into the scalp

Brush with full strokes

Brush hair with full strokes right to the end of the hair. Upward and outward. Feel the blood tingling in your scalp. Your hair's taken on a shining new beauty.
How to Style Vintage Hair Waves
Hairstyle must suit you. As in makeup, start by studying you. Here the line is too severe – it should be softened, thus softening the whole appearance. The important thing is lines – not curls. Simplicity is the greatest beauty
That's all ! © Glamourdaze