Time travel back to Paris of the roaring 20's. The flappers, bobbed hair, cloche hats, and dancing to jazz!
And being Paris, of course chilling at the numerous Parisian cafe's.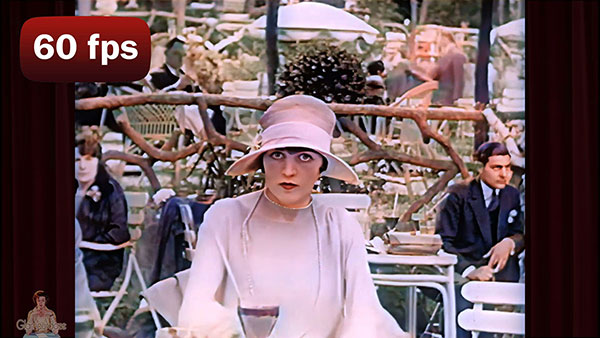 Roaring 20's Paris – AI Enhanced 1927 Film
An AI restored edit of a Burton Holmes travelogue – Seeing Paris. It is preserved by the Prelinger Archive by AV Geeks.
Roaring 20's actress and femme fatale Pola Negri can be seen at the now long forgotten tree house restaurant bar – Robinson Pavillon Lafontaine.
"Robinson" was a popular guinguette ( a bar where you could drink and dance outdoors).
This image of her is is often mistakenly cited as being at Cafe de la Paix, which is also featured earlier.
The popularity of the treehouse restaurants, lasted through the Belle Époque up to and beyond the 1920's. It was located at 32 Rue de Malabry, in a small district Le Plessis-Robinson, south of the city.
Le Plessis-Robinson over the years
The pavilion is preserved, but long gone are the bright young things of the roaring 20's.
AI Restoration Process:
DeNoise and removed artifacts.
Increased motion interpolation to 60 fps, using a deep learning open source program Dain app.
Upscaled using AI to 4K resolution.
Added color using Deoldify.
Added ambient soundtrack
That's all ! © Glamour Daze