Look slimmer the 1970's way for your body shape. 1970's tips for short waist, short figures, wide hips and shoulders, narrow shoulders, large bust.
Source: The Model's Way to Beauty
Oleda Baker 1973
How to Look Slimmer by correct dressing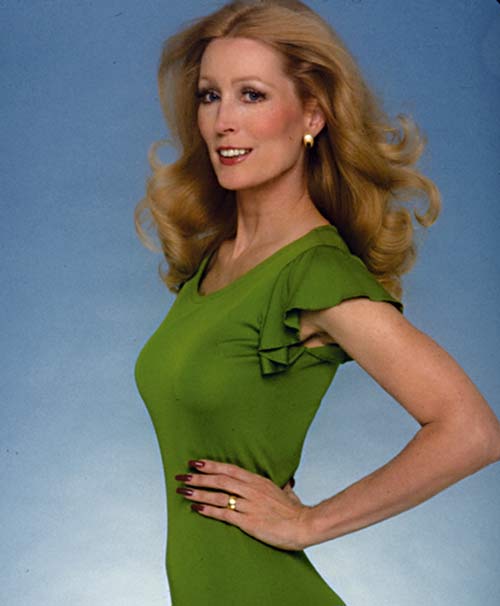 Midway through your diet you'll discover the new you is beginning to emerge.
And oh, how you'll want her to hurry up and show herself!
Well, she on her way but there's certainly no need for you to wait until the end of dieting to begin showing off your curves. Now's the time for a sneak preview of the glamour that's to come.
There are simply dozens of ways to look slimmer in just 10 minutes. Fashion models are adept at the business of illusion and believe me, it doesn't end with makeup and a hairdo. We're something of magicians when it comes to fashion, too.
Short Waist
Here are the magical rules she follows to create the illusion of a longer waistline:
When you wear a belt, never put it smack on the waist. Instead wear it low at the hips. Pants? Hip huggers that nestle on the hipbone are great for your figure. How's that for a stylish solution to look slimmer? Try and avoid a two color dress, finding that one color is a delicious way of s-t-r-e-t-c-h-i-n-g the waistline.
Short Figure
I'm forever surprised at how many of the legendary film stars are so tiny when you meet them in the flesh. Joan Crawford, for example, is 5'3″. And even the fabulous Marlene Dietrich isn't much taller than that, though she looks it, doesn't she?
Of course, most models are tall ( and some like Verushka von Lehndorff sky scrape to nearly six feet!). When the job demands it, they know how to exaggerate their willowy silhouettes.
Detailing
If it's more height you're after, avoid dramatic fashions that tend to wear you instead of vice versa. Choose silhouettes that feature softness in line and detail. Lightweight fabrics are fine, but quilted or stiff fabrics are not.
Very small prints and one-piece dresses are devine on the short figure and, of course, you should scale your accessories accordingly. Avoid chunky jewelry and oversized handbags.
If you're short and still rather full-figured midway through your diet, create the illusion of being further along the road of the the new 'slim you', by choosing vertical lines in styling.
Naturally, you'll avoid a tight-waisted look, settling instead for the easy waistline that will not interupt the vertical lines of your outfit. Dress in dark colors. Black is ultra-chic, and so are various rich shades of dark brown, deep wine, and deep soft greys.
A solid-color box-shaped jacket worn over a dark straight skirt is devine camouflage.
Large Bust – Look Slimmer
Wilhelmina Cooper is big bosom-ed, as have been some of the most famous models of all time. And since fashion designers favor small bosoms to model their dresses, it behooves a working model to know how to draw the eyes away from her ample bust-line.
Girls with fuller figures should avoid tight-fitting clothes at all costs. Ditto anything with "fussy" details – say, a ruffled blouse. Veer towards the more sophisticated clothes: the one-piece dress which emphasizes the vertical line. V-shaped necklines and long rounded necklines draw attention up and away from the bosom. Blouses and jackets that flare gracefully at the hips, as well as anything styled along the A-line.
Wide Hips
When statuesque Norma Jean Darden weighed 140 pounds, her hips were her biggest problem. Still, she insisted on wearing slacks, and what's more she got away with it. Her slacks were always pocket less, and either in solid, subdued colors or were quietly striped.
When it came to skirts, Norma Jean wore them gracefully full, for she realized only too well that a tight-fitting skirt would emphasize her hips. Slight flared and A-line skirts are strongly recommended for girls with large hips. They are most feminine and becoming.
De-emphasise the hip-bone
I have triangle shaped hips, so the bony area just above my hips is a trifle wide. So I too, follow these fashion rules for big hips.
I will never wear anything extra over my hip bones – like belts, thick fabrics and so on. In fact, I position belts either above or below the hip bones.
Detailing
Shoulder to shoulder detailing is a marvelous way to balance a full figure. For example, a long and beautifully colored silk scarf. A wide low neckline, large collars, and bodice detail are also especially flattering. A tunic or a boxy jacket worn over pants is another neat way to distract from wide hips.
Once again, wearing one color is preferable to more than one color; multi-colored outfits have a tendency to cut the figure and thereby draw attention to the widest area – your hips !
Short Legs
A long, leggy look is divine. And even if your legs are long and sleek, you may want to follow these tips to emphasize them.
Heather Hazell has a rather long torso and simply will never be convinced that her pretty legs are long enough. Particularly for a fashion model who earns her money and fame gliding down a runway. So Heather wisely wears one color. When possible, she always carries this color into her hosiery too.
For instance, a creamy beige suit or dress with stockings that match, or almost match, and pumps that are only a shade darker. Marlene Dietrich followed these rules religiously.
Make a point to position your belt at your natural waistline, or if the outfit permits it, a little higher. The Empire style is you! And bodice detailing will do wonders for your figure. In short, the higher your legs appear to start, the leggier you'll look
Wide Shouldered
Avoid padded shoulders at all costs. Instead choose clothes with raglan or dolmen sleeves, and narrow lapels on jackets. Wear scarves with strong vertical lines.
Narrow shouldered
Bare as much neckline as fashion – and your modesty, permits. Avoid balloon sleeves. Wear cap sleeves or long, narrow sleeves. Never, ever go sleeveless. That makes narrow shoulders practically disappear.
Short or plump neck
The V-necklines and wide low necklines are by far the most flattering. Wear your hair up or short, and you'll seem to add inches to your neck length. Never, ever wear anything fussy at your neckline.
Thick Arms
Like the girl with too thin arms, you must avoid all extremes in the sleeves. Too tight or too loose. Instead, choose natural, soft effects.
Protruding Tummy
Avoid clothes that are tight-fitting. Avoid anything double-breasted. Avoid narrow skirts. But skirts with soft fullness or front drapery are immensely flattering.
That's all ! © Glamour Daze