Glamour Daze looks back at some rare photographs. Beautiful sassy women of color, dating from the 1970's back to the roaring 1920's.
Pastel Mini Dress – 1960's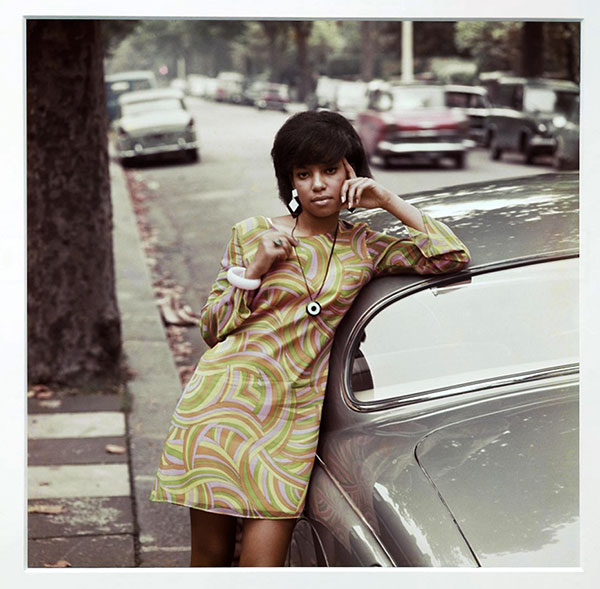 Drum Cover Girl Erlin Ibreck, London. 1966 – James Barnor.
Rarely seen image of a chic woman of color from the 1960's. The pastel mini-dress and faux jewelry is reminiscent of Twiggy.Her gamine look inspired a generation. The model is Erlin Ibreck. She was one of the few black models in the 1960's enrolled at the Lucie Clayton modelling school in Manchester.
The photo journalist James Barnor, hails from Ghana. He moved to Britain and is remembered as a documentary and fashion photographer for Drum magazine.
Black Lives Captured in Rare Photographs in 1970's Britain
The Bailey Sisters in Clapham – Neil Kenlock
Photographer Neil Kenlock was born in Jamaica. He joined the Black Panther movement in Britain and became their official photographer, documenting social unrest and racism. The 'keep Britain white' graffiti, Balham, is his most remembered photograph. This image summed up life for many people of color in Britain in the late 1960's.
Racist Graffiti in Britain in the early 1970's
Photographs – Eric and Louise Franck London Collection. Read original post at ArtBlart.
Women of Color in the 1920's
It's always a treat to come across images of women of color from the 1920's. We've added some life to these faded photographs of beautiful African American women, using Deoldify.
1940's Women of Color – Restored Photographs
Pictured in their prison-issue cardigan sweaters, dresses and perfectly coiffed hairdos. (Alba Barrios, Frances Silva and Lorena Eucinas.)
The girls were arrested in connection with the infamous Sleepy Lagoon murder in Los Angeles in 1942.
The Sleepy Lagoon Defense Committee (SLDC) which included Orson Welles, fought to overturn the final sentencing of 12 men. In 1944, the state Court of Appeals reversed the 12 defendants' convictions in People v Zammora 66 Cal.App.2d 166.
Photographed left to right are: Frances Silva, Josephine Gonzales, Juanita Gonzales, Lorena Encina, and D. Barrios.
Image : UCLA archive.
That's all ! © Glamour Daze