Hollywood makeup artists Ern Westmore offers some vintage nail polish tips. How to paint nails, do a quick nail repair or apply false nails.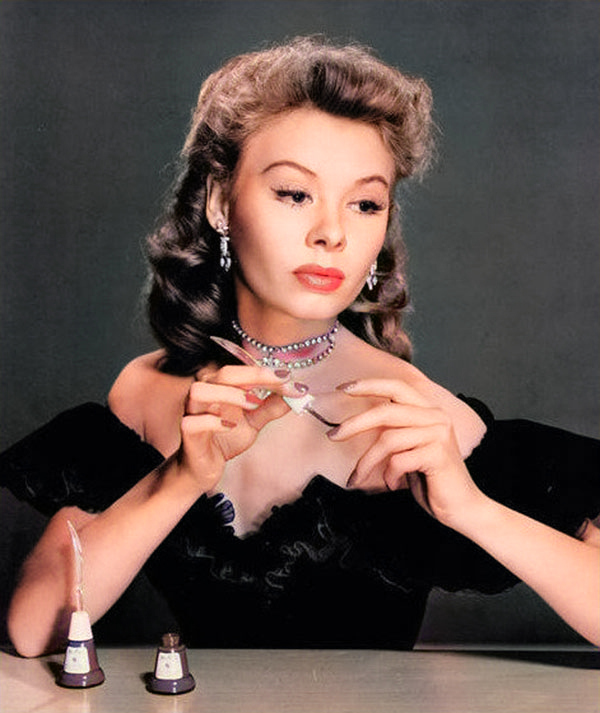 Vintage Nail Polish Tips – 1960's Film
Time needed: 10 minutes
How to do a vintage nail repair with tissue
Apply polish and cover with tissue

First, cover the nail with polish but leave a margin on either end. While polish is still wet, apply a small piece of tissue over the nail and on to the wet polish.

Dissolve tissue in glass of water

When absolutely dry, dip in a glass of water and wash away excess tissue, that is not sealed to the nail. This will leave a nice feather edge. This will dissolve and disappear as you apply more polish.

Apply several coats of polish

If it needs more strength, apply another layer of tissue. Then to further strengthen it, you must always apply a further five or six coats of polish.
How to fix a broken nail – the modern way
Ashli TV tried the vintage method with the tissue, and it was a bit of a disaster. So she demonstrates in her video, several modern methods. You can use a teabag, a silk teabag, or her preference – a fiberglass nail wrap.
How to paint your nails perfectly
If you want to prevent nail polish from running into the cuticle, always apply the first stroke down the center of the nail. This gets rid of the excess polish on the brush and you can then paint a clean line around the nail without any mess.
How to prevent Nail Polish Chipping
While still wet, swipe the polish off the tip of your nail with a tissue. Now if you're in a hurry and need to set and firm your polish, just put your fingers into a bowl of ice water for a minute or two. The perfect quick home manicure.
Film produced in association with – Northeast Historic Film, John J. White Sr./WGANCollection
That's all ! ©Glamour Daze