Rare early technicolor fashion film from 1930, showcasing the end of the flapper girl era. The drop-waist dress is replaced by a closer fitting slip dress, a natural waist and lower hemline. The look is still very much the flapper dress, but we can see the changes already.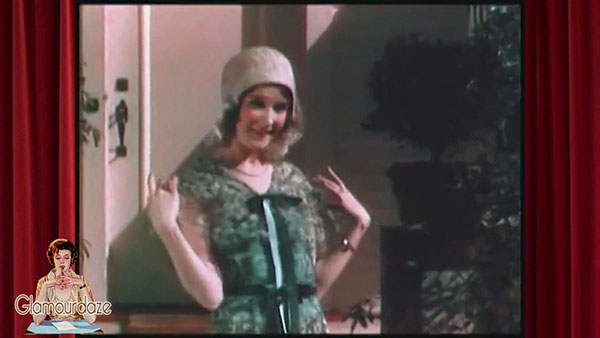 Flapper Dresses | Color Film 1930
We published this originally in 2010, but here it is again in higher definition !
Fashion Features Studios Inc, produced these fashion shorts between 1927 and 1932 and are unique examples of early sound talkies, filmed with both 2-strip color and later the 3-strip technicolor process.
Phyllis Crane – 1930 Fashion suit
Here's that clever little flapper girl, Miss Phyllis Crane. She's going to tell us about her suit, she has selected for early spring wear.
"Don't you think this little three piece suit is smart? Notice the tailored cutaway, and the clever stitching. Also note that the tuck in blouse and lining of the jacket, carry out the fine stripes which promised to be very a la mode this spring"
Mary Philbin – Flapper dress
Miss Mary Philbin, steps out in to her garden to show us her new afternoon frock.This model is an adaptation of a Chanel.
It features the new length, the molded hip line and the high waist. It is fashioned from imported net. Printed to a dainty green and white design. A two tone trim and frost caped collar enhances the shoulder line.
Polly Walker – Sports Suit 1930
Charming Polly Walker has selected a sports suit in a lovely rose shade to show to you. Also she is going to tell us just why she has chosen this. "This three piece ensemble is ideal for sportswear. Notice the new blouse, long jacket sitting snugly over the hips and buttocks. Won't it be ideal in the lakes this spring?"
Sally Starr – Evening Dress
Isn't Sally Starr lovely in this peach moiré? And now Miss Starr is going to tell us all about the costume she is wearing.
"I'm very fond of this evening ensemble, on account of its close fitting lines. And I also want you to notice the little separate jacket."
That's all ! © Glamour Daze