Easy vintage inspired 1940's hair snood hairstyle.Tia Semer shows us how to easily create this glamorous old Hollywood hair look with bobby pins.
How to do a 1940's Snood Hairstyle Video
The snood was popularized in the late 1930's and early 1940's by Vivien Leigh in her portrayal as Scarlett O Hara in Gone with the Wind. If you want to create an easy 1940's hairstyle, it's a must have hair accessory.
Step by Step – 1940's Hair Snood Instructions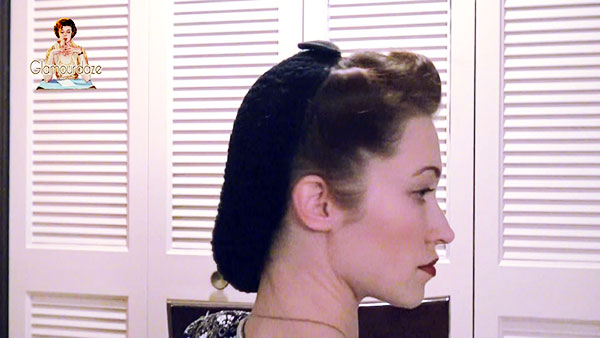 Glamourdaze's Tia Semer continues her 1940's hairstyle series with a simple and easy to learn snood hairstyle tutorial. Above is the finished look. Now grab your comb, bobby pins and snood and follow the instructions below. You can buy hair snoods and bobby pins on Amazon.
Make a rectangular part with the front section and back comb for texture and fullness.
Loop ends around thumb and roll towards scalp.
Place one bobby pin on each end.
Now carefully pull the roll off center and secure to your scalp with more pins
Next, part both sides of hair just behind ears.
Tie rest of hair back, and back comb each side section.
Roll each section up to level of front roll and pin securely.
Smooth carefully with a fine tooth comb and tuck away loose ends.
Gather remaining hair loosely by coiling it, and pull the snood over it.
Place the top of the snood at the back of the rolls and pin in place.
That's all ! © Glamourdaze
Check out Eliza Cosmetics, ( owned by Tia Semer), the popular vintage inspired cosmetics and jewelry store.