Twiggy Makeup and Haircut. How 16 year old Lesley Hornby became Twiggy. How she developed her makeup look, her famous crop and who really discovered her.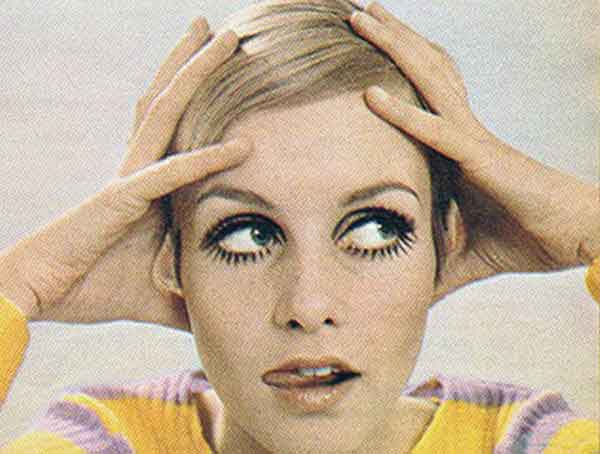 Preceded by Jean Shrimpton and inspired by Pattie Boyd. In January 1966, Lesley Hornby became Twiggy, with a little help from Leonard of Mayfair, photographer Barry Lategan and fashion journalist Deirdre McSharry.
Get the 60's Twiggy Makeup Look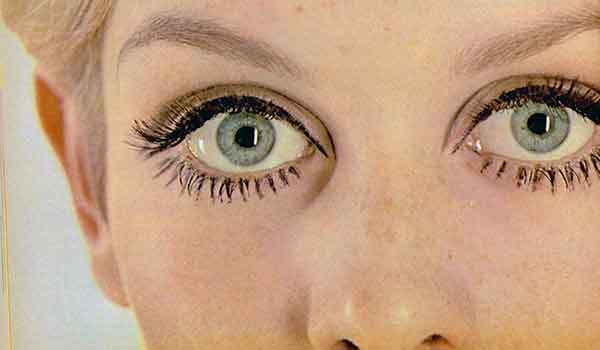 Lesley Hornby, still attending Kilburn High School for girls, was always a dedicated follower of fashion. Like most girls, she was a huge Beatles fan, and by default, became inspired by that most famous of Beatle girls Pattie Boyd. "I based my makeup on hers".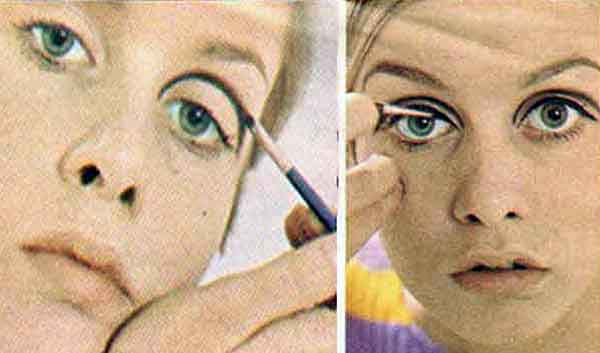 Twiggy's eyes get a big build up – starting with a dark brown line ( etched with brown eye liner and a brush) in the crease of her lids.
Then a thin line of black eye-liner very close to her lashes.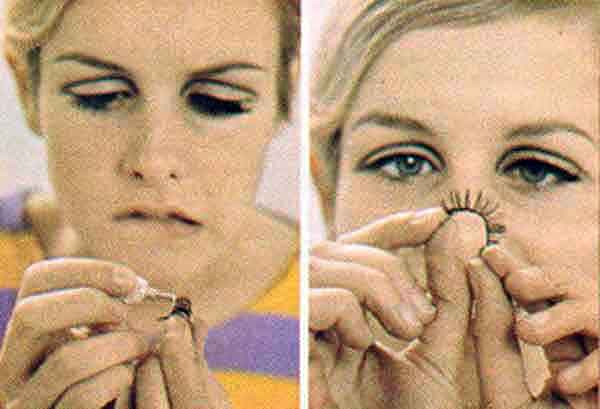 The lashes come next.
"I use different kinds, usually the double thick hair ones. Often I put on two or three at a time. Then I mascara over them with black mascara."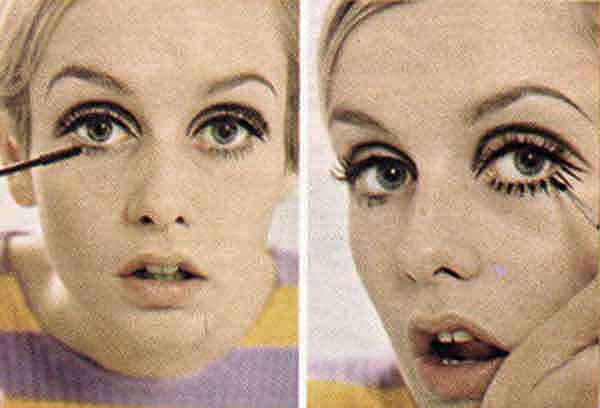 "Then I do the Twiggies, the lashes I paint underneath my eyes. I sketch them first lightly with black eyeliner, then I darken them. I usually do between nine and eleven. It varies".
Twiggy uses a light beige foundation, a fluff of rouge and very little lipstick.
These images of Twiggy doing her makeup come from Woman's Own, July 14, 1967.
The painted on false eyelashes was Twiggy's own idea. She was a mod through and through and loved experimenting. It was that eye makeup look, along with an iconic hair crop by Leonard of Mayfair which would help launch her career.
How Lesley Hornby became Twiggy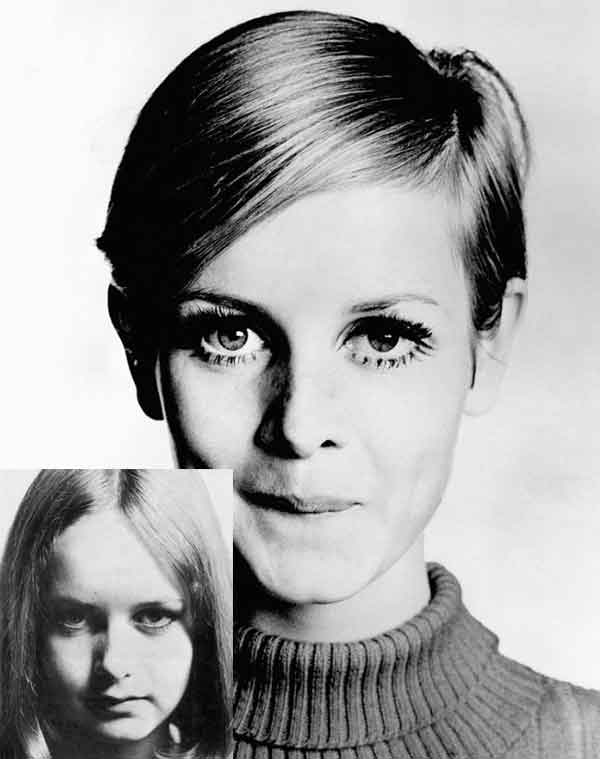 While working in a salon, she met a man who would change her life. Nigel Davies, former boxer, part time Vidal Sassoon hair stylist, and stall owner at the Chelsea flea market.
The Twiggy name, according to Twiggy herself, came from Davies brother. "I used to have very skinny legs, which I hated. he used to call me Sticks, and I used to get really angry. Somehow Sticks one day turned into Twiggy. It was just a nickname!"
Davies had changed his own name to the unlikely nom de plume of Justin de Villeneuve, and ultimately became her first manager.
I hate to put a dent in the story here, but Hornby was barely 16 at this time, and de Villeneuve's Svengali like association with her (he was 10 years her older), might raise eyebrows these days. His relationship with Twiggy would end acrimoniously in 1973. She now downplays his role in her career, which de Villeneuve finds "hurtful"
From Typical Mod Girl to Iconic 60's Model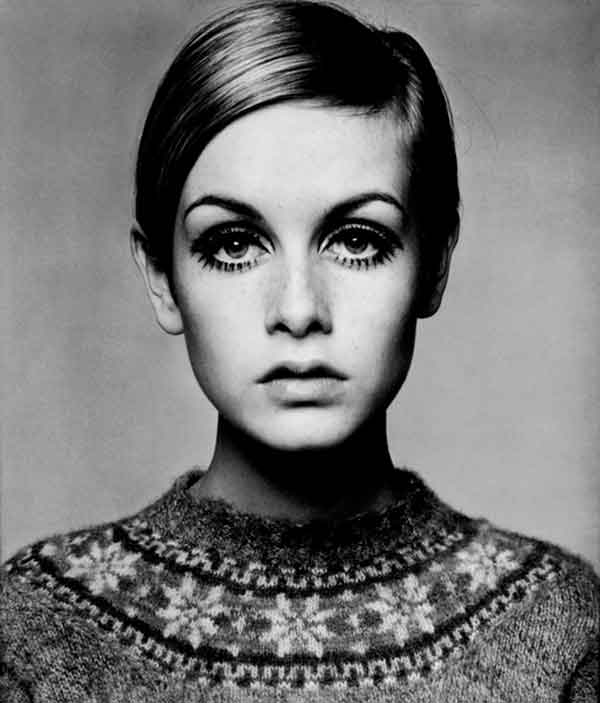 In January 1966, after a fortuitous meeting with the editor of Australian magazine, Woman's Mirror, the sixteen year old hopeful had the good fortune to get a hair makeover at the studios of Leonard of Mayfair. Leonard Lewis was already stylist to The Beatles, and like Vidal Sassoon, was a big fan of the short crop.
Lewis asked photographer Barry Lategan to meet with Twiggy and Justin first. While at his studio Lategan recalled being enchanted by the girl.  "At one point during the session, Justin admonished her saying 'stop biting your nails Twigs.' So I asked him, what did you call her? and he replied 'Twiggy, because she's so skinny!"
The Twiggy Haircut
Hornby and Lewis then proceeded the next day to the the salon of Leonard Lewis.
"Thank goodness I took the plunge!" she told The Daily Mail. "It all took seven-and-a-half hours. Leonard would cut a bit then send me upstairs to see Daniel Galvin for color, then Leonard would cut more. It got shorter and shorter!"
Quintessentially English, this retro flapper hairstyle perfectly matched Twiggy's gamine figure. After the session, Twiggy repaired to Lategan's studio once again for the official photo-shoot.
Barry Lategan  on photographing Twiggy
"She arrived with her hair in a boyish cut. her eyelashes were painted on her face and as she sat in front of my camera I was absolutely dazzled.She looked straight into me. It's hard to explain what photogenic is, but she was it"
The Daily Express Discovers Twiggy
The resulting photos,now hanging in Lewis's salon, were spotted by Daily Express journalist Deirdre McSharry on a visit to the salon to get her own hair done. Twiggy's now iconic portrait was on the wall and McSharry got Justin's phone number. The couple went to visit her, necessitating Hornby missing a days school! "She had genuine charm, extraordinary application and was an iron butterfly, coolly eyeing everything, never missing an opportunity to shine. I loved her Bambi eyes."
For the Daily Express photo-shoot, Twiggy now wore her own clothing – a pair of bell bottom jeans and a tight polo neck sweater Ala Mary Quant. A 1960's fashion icon was born !
That's all !
©Glamourdaze
Further Reading:
Twiggy Style
How the Daily Express discovered Twiggy
Twiggy's Life in 15 Hairstyles