1971. The mini skirt could go no higher. So the tight fitting aptly named hot pants took their place. No other garment was as provocative or raised eyebrows higher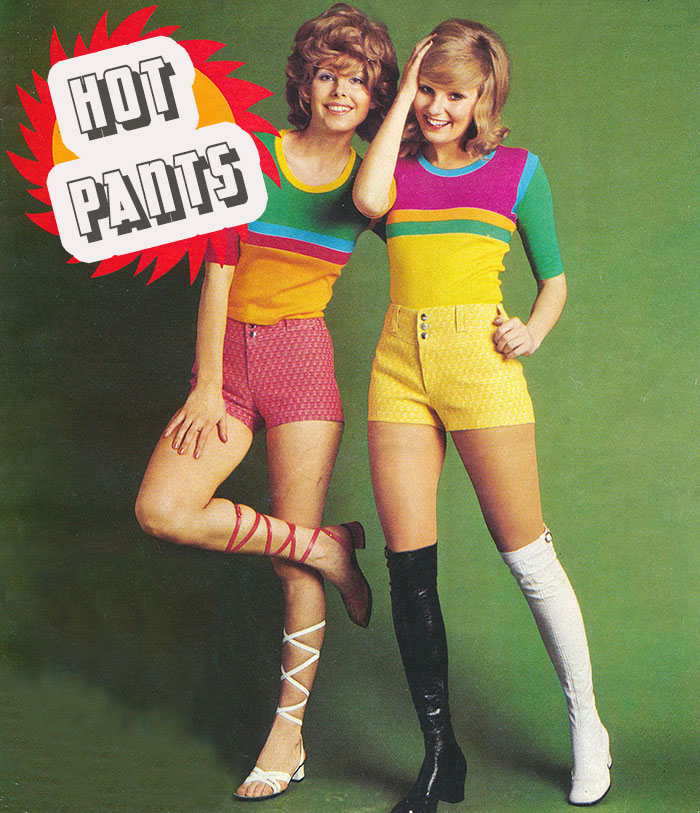 Everyone's wearing them in 1971
April 1971 saw the first regular appearance of the tight fitting, hip hugging shorts as worn by the dancers on BBC's iconic Top of the Pops show. It was the first big trend in 1970's fashion .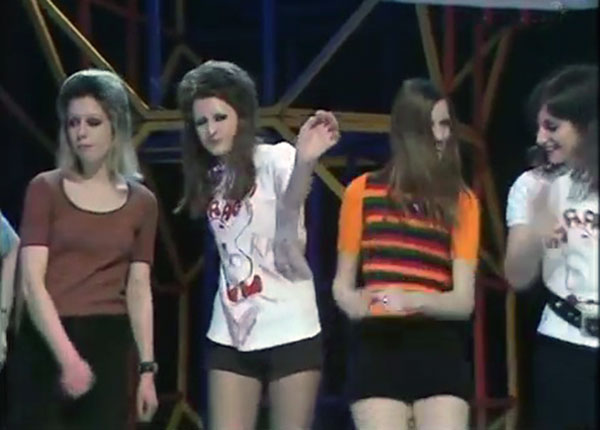 Lulu wore them. The resident dance troupe Pans People wore them. Irish singer Clodagh Rodgers wore a spangled pair for her 1971 Eurovision song contest appearance to great effect.
Sally Carr, lead singer with Scottish band Middle of the Road, also helped cement the hot pants look, when she memorably wore them singing their popular cover of Lally Stott's Chirpy Chirpy Cheep Cheep.
Origin of Hot Pants
Tight shorts were worn by dancers in the 1930's, usually when rehearsing. We'll give actress Ruby Keeler the credit for their most celebrated appearance in the film 42nd Street (1933). "Short shorts" were first truly embraced in the 1950's.
We humbly question the British V&A museum's assertion that Mary Quant invented hot pants in 1966.
Quant's 1966 mini pants certainly paved the way, in her continued quest for the ever shorter. They were not however the eye popping figure hugging garment which appeared in 1971.
We like to think, as Mary Quant herself believes, that most trends are created by ordinary women. It's the fashion designers job to harness the need and perfect the designs.
Who Coined the term?
Women's Wear Daily coined the hot pants term in 1970. WWD is certainly responsible for coming up with many fashion names over the years.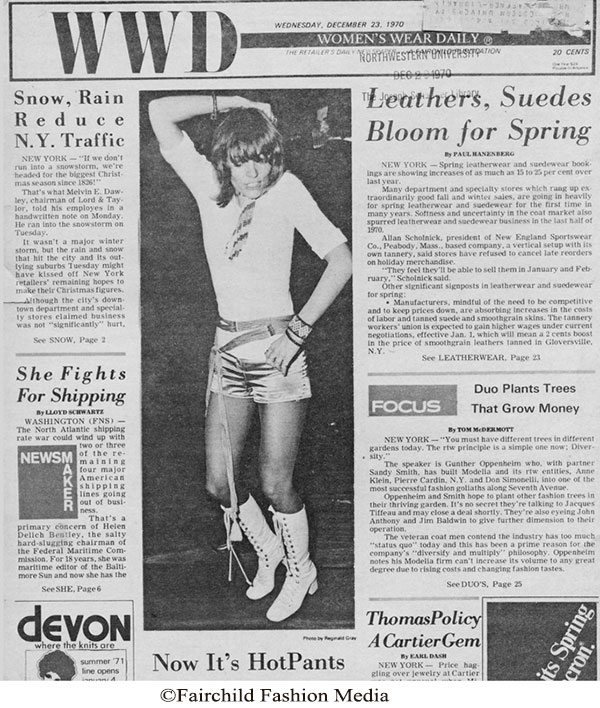 The short and happy career of hot pants
Through 1971, pattern companies quickly pushed out dozens of designs.The stretchy material of modern synthetics, added considerably to their figure hugging effect.
It was no surprise that the image would be exploited. The risque uniforms worn by flight attendants in Southwest Airlines that year were a good example in the bad taste of the 1970's.
As quickly as the fad came along, it fizzled out again.  "By the end of 1971, Life magazine declared an end to its short and happy career." (Icons of Women's Style – Josh Sims)
That's all !
©Glamourdaze