1940's clothing had two distinct silhouettes : the wedge silhouette of the early 40's – wide shoulders ending in a narrow waist, and the post war hourglass silhouette – cinched waist flaring out to a bell shape skirt.
What Women Wore in 1940's Clothing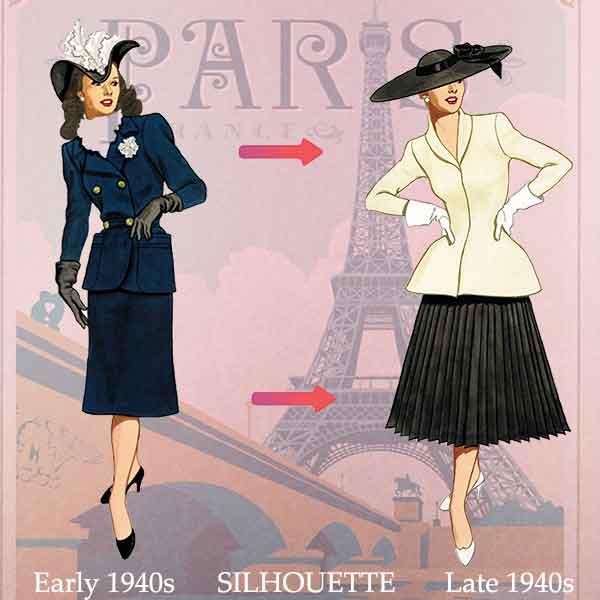 What Women Wore – 1940 to 1945
Early 1940's dress silhouettes for women saw the wide shoulder look take on a more military influenced boxy silhouette.
Padded shoulders, puffed sleeves, narrow waists, single pleated skirts and functional shoes like oxfords and pumps. The dress or jackets most often featured a Peplum overskirt detail.
In Britain, CC41 clothing restrictions brought an unexpected bonus, when the Incorporated Society of London Fashion Designers through the likes of Norman Hartnell and  Hardy Amies introduced designer looks to utility clothing.
Their mass production, laid the foundation for the revolution in the making of Ready-to-wear or prêt-à-porter clothing in the post war years.
The make do and mend philosophy was followed by all social classes, and the utility dress became a fashion symbol of female solidarity.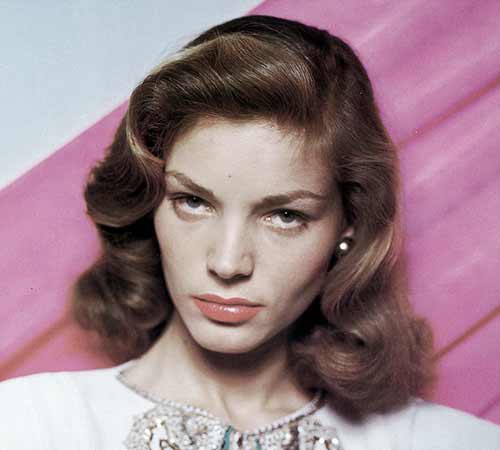 Hairstyles in the early 1940's were long again, with a multitude of hair rolls, bangs, hair waves and pin curls dominating.
What Women Wore – 1945 to 1949
The post war silhouette was already moving back to an hourglass shape. Christian Dior, brought back an extreme feminine silhouette. Dior's Corolle collection of 1947 dubbed "The New Look" had a cinched wasp waist, padded hips and bell like skirts.
Foundation wear had to be controlled again, in order that this new feminine shape could be achieved. Not as severe, but a seismic shift back to a more romantic style.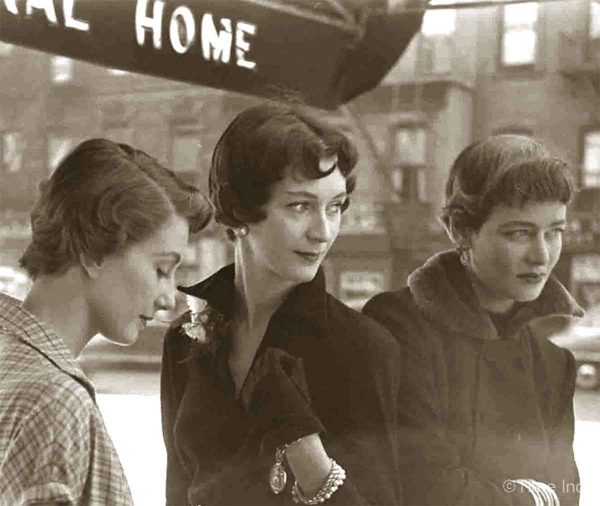 To help contrast the head with this new fuller figure, the up do hairstyle was replaced by a flatter style with side partings. In 1949, there was a second new look which evolved in to the gamine style of 1950 . Slimmer sheath dresses and short new shingle hairstyle saw the end of the classic 1940's hairdo and made way for the quirky poodle cut in the early 1950's.
That's all !
©Glamourdaze
1940's Clothing – What Women Wore Film
What Women Wore in the 1940's  an excerpt from a public information film Sixty years of Fashion, created in 1960 by the Central Office of Information, sponsored by The Board of Trade.
Directed by Simon Napier Bell and photographed by Larry Pizer.
Costumes by The Victoria Albert Museum. V&A
Corsets by R&W.H. Symington
Contains public sector information licensed under the Open Government Licence v3.0
The Central Office of Information Archive.