Here's the Fall fashions for 1952, as worn by Grace Kelly and Debbie Reynolds . The  dresses, suits and coats worn by Hollywood women in 1952
Fall fashions for 1952 – Debbie Reynolds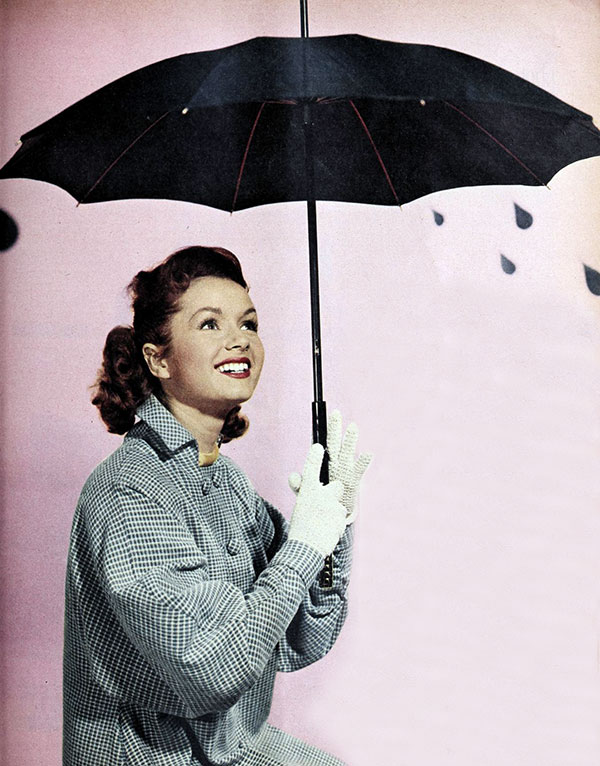 Debbie Reynolds looks young and gay in her smart new Sherbrooke raincoat. Although it looks like wool, it's a lightweight all rayon tweed. It doesn't wrinkle in the rain. Double breasted in front, it has a modified pyramid back, intriguing push-up sleeves.
Gloria DeHaven – Slim Skirt, vest and jacket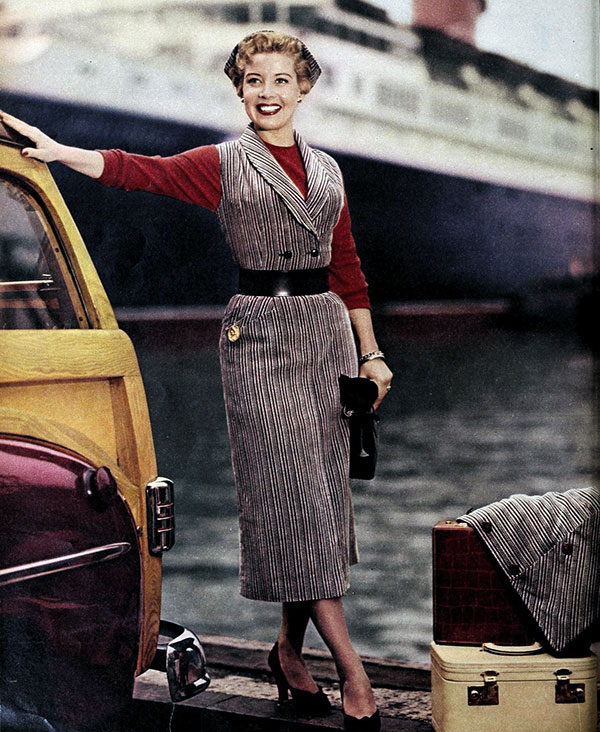 Gloria DeHaven poses with S.S. America as background, wearing a wonderful go-outfit. Slim skirt, vest, jacket and hat are in Juilliard new, tweed-striped cotton corduroy. Blouse in wool jersey.Leather bag and gloves. Her choice in fall fashions for 1952.
Constance Smith
Constance Smith wears a dressy version of an old standby – a grey 100% flannel suit by Saucony. Fitted jacket is embroidered with trimmed with black faille. Straight skirt has kick pleat in back. Also in navy, brown or green flannel with black trim.
Grace Kelly – Handmacher suit
Left: Grace Kelly is in a beige Handmacher suit which is flattering to most skin tones. Of gabardine, the fitted jacket features a tiny wing collar, interesting spread wing pockets at the hip line. The skirt follow the current straight line which is in vogue.
Monica Lewis – one piece knit dress
Right: Monica Lewis models a one piece knit dress. It features a full skirt that is flattering even to the fuller figure. It also stresses the becoming bat wing style sleeves. Dress by Lass of Scotland in 100% wool chenille yarn. Also available in harvest shades, as well as black.
Long Wool Tweed Coat | Red and Yellow tweed dress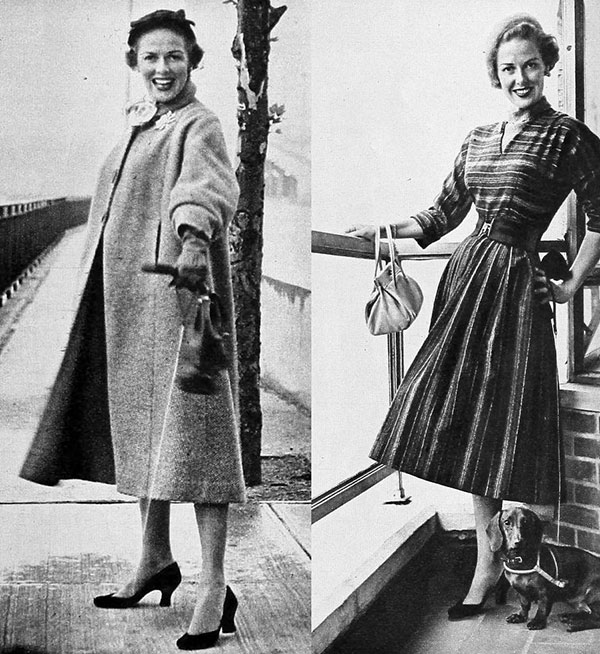 Left: Janis Carter keeps in style in a wear-everywhere coat designed to go from morning to night, over everything.In a pebbly, black-grey wool tweed. Janice wears a pert little black velveteen jockey cap. Park lane leather tote bag.
Right:Janice is all set to go walking with her frisky dachshund. Her dress is by Harry Rosenfeld is in striped grey, red and yellow wool tweed.
Read our 1950s fashion blog. A huge archive for vintage 1950's clothing enthusiasts
That's all !
©Glamourdaze