1940s bathing suits 1948. Hollywood stars Cyd Charisse, Barbara Stanwyck and Jane Greer model the latest in 1940s swimsuits by top brands Jantzen and Mabs of Hollywood
Beautiful 1940s Bathing Suit Styles to Inspire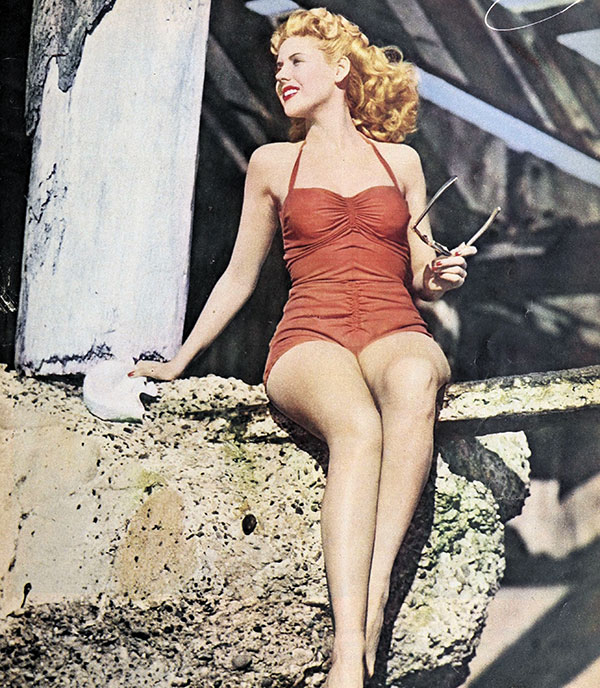 Marie McDonald has measurements which Hollywood producers, artists and at least one professor of anatomy and physical anthropology rate ideal. Here she sports a Caltex bathing suit for figure molding flattery. Jersey lined Botany wool in all rainbow colors.
Cyd Charisse, inspired by the Hawaiian tropics – looks stunning in this satin latex print bathing suit designed by Mabs of Hollywood.
At 12, Cyd studied dancing with Nico Charisse. Five years later, while she appeared in France with the Ballet Russe, she married him. Now she's under contract with MGM.
Check out our Beautiful Legs Tips for 1940's Swimsuits.
Lovely Jane Greer models a Jantzen bathing suit of "Peach-skin" latex designed for figure flattering. A riot of other colors in sizes 32 to 38. Born in Washington in 1924, Jane Greer sang torrid Latin songs with Eric Madriguera's Orchestra. Then for a short time, she was Mrs Rudi Vallee. Striking out for a career of her own again, she signed with RKO.
Barbara Stanwyck wears sunglasses like nobody else in Hollywood. Here she sports a pair of beach sunglasses by Marti of Hollywood.
Catalina Swimsuits of the 1940s
Gail Russell models a "beau catcher" play-suit by Koret of California. Three cotton pieces in many colors.
Gail wanted to become an artist. But a Paramount talent scout heard about a 'great beauty over at Santa Monica High' – and wooed her from her drawing board. She has blue eyes and black hair. Ans she's amazed at her natural flair for acting.
Karin Booth sports this gypsy dress in colorful stripes. Isn't she beautiful? Karin wanted to become a ballerina. But Metro saw some pictures of her – and she was in the movies. She has blue eyes and auburn hair and boasts one of the smallest waists – a scant twenty-one inches.
That's all!
© Glamour Daze