Designer Mary Quant still causes a stir
From childhood memories of a ballet dancer in miniskirt and tights, to trying on a boys ribbed sweater, Mary Quant helped define the 1960s fashion era.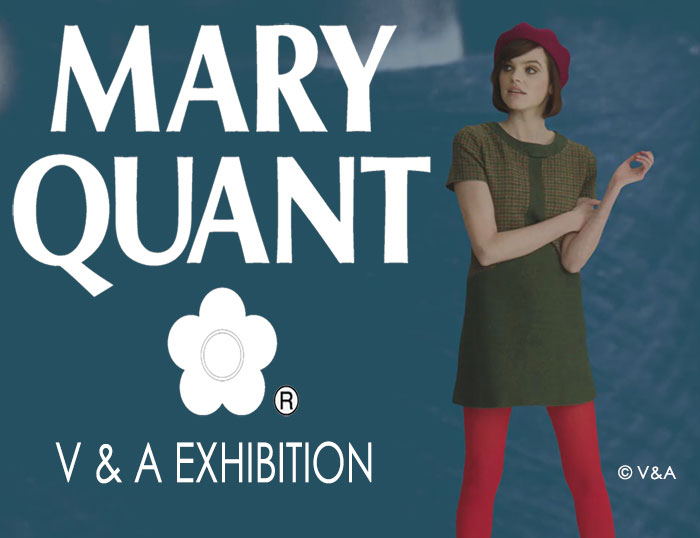 The current Mary Quant retrospective being held at the Victoria and Albert Museum in London reveals a gold mine for fashion lovers and fans of this iconic Welsh fashion designer.
Quant may not actually have invented the mini skirt, but she played a major role in jet propelling it into acceptance as standard outerwear for young women. Spearheading the youth-quake from Britain in America, her name was as well known as the Beatles and Sassoon.
By 1967, the white daisies logo synonymous with Mary Quant, epitomized everything that was swinging London, from chic mini dresses to her own brand of makeup crayons and colorful shoes and tights.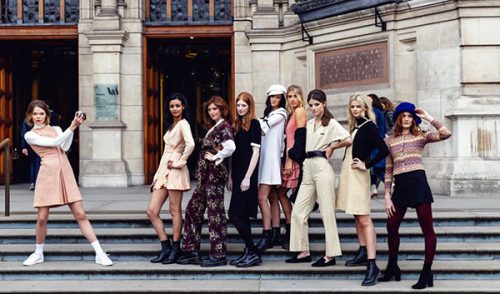 Last year, ahead of this exhibition, the Victoria and Albert Museum in London staged a promotional Mary Quant event featuring several original Mary Quant models alongside a bevy of young models wearing Quant's designs. The objective as a "call out" to women across the nation who may have purchased original Quant dresses in the 1960's. The response was overwhelming. The current exhibit has 35 designs donated by their owners. So if you're in London any time before
Quant studied illustration at Goldsmiths, meeting her future aristocrat husband Alexander Plunket Greene.
Mary Quant's Bazaar Boutique
In 1955, they opened the Bazaar boutique on the King's Road, Chelsea London, and became active members of the 'Chelsea Set', a group of bohemians who had a penchant for interesting wardrobes.
Starting life as a cottage industry selling jumble sale clothing, the self taught seamstress Mary Quant began including her own designs. In contrast to the high street stores, Bazaar stayed open late, played loud music and even offered refreshments to customers. Quants' skirts were short from the get go, simple shift dresses in bright colors. Childhood memories of seeing a young dancer in a mini skirt and tights at a dance lesson, left an indelible impression on Mary Quant and by 1960, dangerously short dresses were appearing in the entertaining Bazaar window displays.
Dresses – 1960 to 1963
Many of Mary's early 60's dresses, were designed basic shift dresses, reminiscent of the simplicity of the 1920s flapper dresses. Like Chanel in the 1920's, she was a fan of jersey fabrics. Here are two dresses donated to the V&A collection.
Left: This is a bright scarlet shift dress from 1960. Right: A variation of the shift with larger armholes. To be worn as a pinafore,with her trademark skinny ribbed sweaters.
Dresses – 1964
This wool jersey dress made in 1964 cries out Mary Quant. It has a schoolgirl charm with short skirt and contrasting Peter Pan collar and cuffs.
Dresses – 1966
These three pullover mini jersey dresses in the V&A collection really do display the London look of the swinging sixties. Mary Quant dresses were both practical and affordable and helped democratize fashion for women.
Sew your Own Mary Quant Style Mini dress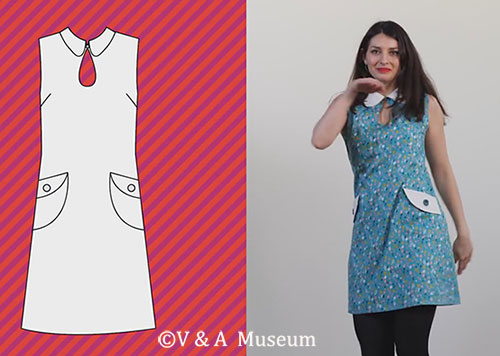 If you're a vintage pattern enthusiast, and can handle needles without requiring a visit to the surgery, the Victoria & Albert museum have a free Mary Quant mini dress pattern .Now you can sew your own Mary Quant style A-line mini dress and wear the look which defined the 1960's. There's also a video by Alice & Co Patterns – Sew Your Own Mary Quant Style Minidress to watch. Enjoy !
Mary Quant Tights and Stockings
Along with her mini skirts, Quant look on the hosiery giants such as Pretty Polly with her own Daisy brand of tights and stockings. Manufactured by the Curry Nylon Hosiery Company. Her hosiery came in rich psychedelic colors like mustard, prune and ginger. They were the perfect complementing color match for her hem raising mini skirts.
The "Highball" glitter tights of 1966, featured here proved to be a hit among young club goers. The colors came in silver and gold, as well as blue, red and greens.
Mary Quant Makeup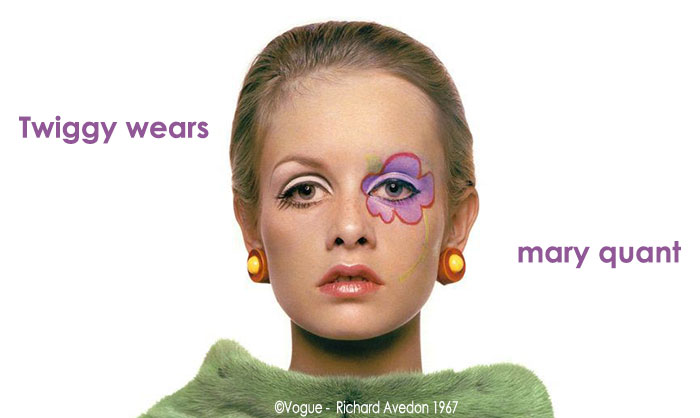 In 1968, designer Mary Quant declared "now that the dresses are different, the makeup is wrong. Other than red, pink or orange for lipstick, or green and blue for the eyes, nobody considered any other colors".
After a year and a half of development, she launched her own brand of Makeup Crayons. Inspired by the stage makeup sticks used by actresses and dancers in the 1940's.
Like her tights, they came in complementing colors.
Many years later, a young Toyah Wilcox recalled her big sister "bringing home beautiful round Mary Quant bottles of nail varnish in amazing colors such as canary yellow, shimmery green and night time black. I could stare at these beautiful bottles for hours, the design was one of the best things I have ever seen".
Lisa Eldridge, YouTube makeup guru recalls "being mesmerized by my Moms stash of Mary Quant makeup. Her iconic crayons are my favorite items in my collection. I love the instructions that tell you to paint a flower everywhere!"
The Mary Quant V&A Exhibition runs until Sunday, 16 February 2020.
Read the History of the Mini Skirt
Further Reading: Twiggy Makeup and Haircut – Iconic 60's Looks
That's all !
©Glamourdaze