A few Hollywood exercises for glamorous lips plus tips on applying lipstick for your face and nose shape.
What your Lips may say about you
The face of a otherwise lovely girl can be utterly marred by lips that are too broad, too narrow or just nondescript. Hollywood stars like Marsha Hunt above, practice diction constantly. There is no better way that I know of keeping lips soft, flexible and pretty.
They practice laughing, smiling, puckering and do all sorts of fancy exercises. They do them as regularly as you put powder on your nose. Why? Because they know that they must have complete control of those expressions which the camera catches and blows up to a cinema sized screen.
Next to your eyes, your lips could be the most important feature of a woman's face. She can use lipstick creatively to create an impact.
Beautiful Lips – A 1940's Hollywood Actors Guide
Whistle while you work !
Pucker and purse your lips regularly
Smile and laugh. It pretties the lips as well as disposition
Part your lips when talking
Make your lips work to form words
Lipstick Tips – A 1940's Hollywood Guide
Widen thin lips by rouging beyond edges
Narrow wide lips by confining rouge inside
To shorten lips, stop rouge inside corners
Lengthen lips by continuing rouge to corners
Turn up drooping corners with lip pencil
Lipstick Tips for your Face Shape
When you sit at your dressing table to apply your lip rouge, try to visualize your lips.
Oval Faces –  make your lips full and natural looking and not too daring in color. You don't need to.
Round faces – rouge your lips into rather wide curves. This will give the illusion of an oval face.
Long faces –  lips should be be fairly wide, especially the lower one. The color should carry out to the corners.
Square Faces – curve your lips with a strong bold line. Tilt them upward just a bit at the corners too.
Heart shaped with a broad forehead and narrow chin – Shape your lips like a heart, using a medium shade of rouge.
Broad Face and Narrow Forehead – make up your lips to look full as well as wide.
Short piquant turned up nose – a wider upper lip should accompany it. If your nose is long or large, emphasize your lower lip.
When to apply lipstick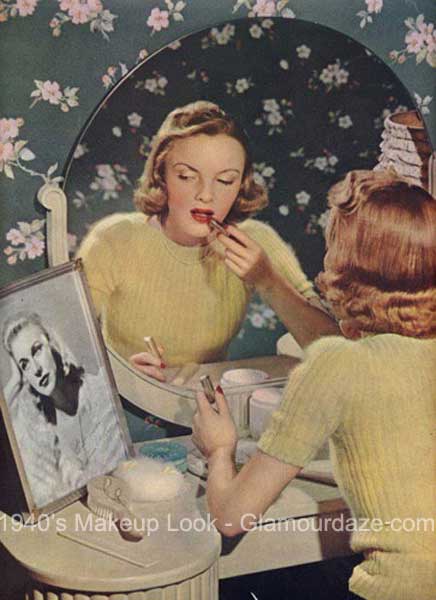 Whether your lip rouge comes in stick, cream or liquid for, always apply it last of all your make-up. It goes without saying to start with a soap cleaned face deeply cleansed then with cream and moisturizer.
That's all !
©Glamour Daze 2019
Read our 1940's Lipstick Tutorial by actress Mary Martin