Glamour Daze examines some stylish 1940's shoes from 1941 and where to buy them today. In leather and the popular trend of elasticized gabardine.
Feminine shoes with masculine styles
From top left
Bow Pump with a snub toe. Magic stride in antiqued calf; good looking and a good walking heel for that stylish girl in a hurry.
Modified moccasin, acme of masculine ease, in the distaff version. Suede fringed calf. Lovely for the young deb.
High-riding step-in shoe of suede, fits as if it grew on your foot. Fringed panel.
Another moccasin, this one is wall-toed, V-throat. Gabardine Heel Latch, with calf heel, toe and pretty bow.
Moccasin influence again in sleek Calcutta lizard. Slip-on, with Cuban heel. Perked up nicely by a bow.
Spectator shoe, unchallenged classic in soft calf. Leather laces.
Where to Find 1940's Style Women's Shoes
Visit American Duchess for the hottest 1940's women's shoes on the web. We particularly love their  Marilyn vintage 1940's Pumps in black and red. Lauren and Abby's passion and enthusiasm is infectious. You can also view their range on the Royal Vintage Shoes YouTube channel.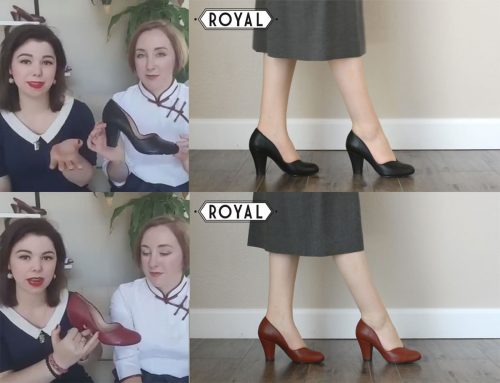 You'll find the perfect pair of 1940's women's shoes for you, whether they be platforms, pumps, sandals or proper WW2 reproduction women's shoes.
Vintage Shoes on Amazon
The mammoth store that is Amazon has a wealth of vintage style shoes for women. They are reasonably priced. Some good, some not so good. These are some picks.
Back to the shoes in 1941
Hot Finds – a definite trend – elasticized gabardine
Twinkling slipper for a girl who likes low heels. In elasticized gabardine; cunning Mary Jane-like blow, bright nail heads on sole and heel.
Spectator pump of elasticized gabardine with a welcome way of minimizing a foot, thanks to the tiny cut-out and heel and toe-tip of contrasting calf.
Tango pump in patent leather, that other phrase for "spring". Diagonal stitching, a flip little bow make a shoe for a pretty, pretty foot.
High-waisted step-in in gabardine to point up a dainty ankle. Air Step design, piped in mountain snake, to fit the foot well, make it look better.
Butterfly-bow pump of gabardine for general butterflying. Hollywood style, it's sleek-fitting with a high V-throat, cut-out toe and graceful heel.
Slip-on with shiny patent heel and a dull elasticized gabardine vamp smoothly converging. Round peep toe over instep is fluted with sparkling vinylite.
Rosette pump to wear with your bright prints. By Air Step, it's of glistening Springtime patent and equally important silk faille.
Tailored pump of favored elasticized gabardine and patent, laced with sparkling patent from open toe to V-throat. Tiny bow on the top.
That's all ! ©Glamour Daze