The Sweater Dress modeled by Hollywood Stars 1954
Look what's happening to the sweater, girls! Now it's a dress, a sweater dress. A blouse, an evening top or even a coat. The sweater has arrived as an important figure in fashion.
The sweater dress is pack-able, washable and wearable for all occasions. It's smart and lovely for the festive season ahead. Just add an important jewel, a little fur collar or a good leather belt and you have a wardrobe for any hour of the day or night. Knits are always a good investment. Every woman should have one.
Left: Beauteous Grace Kelly, soon to appear in Dial M for Murder wears a wool-knit sheath by Goldworm. It comes in Navy, ginger white and black. Grace wears a pretty pair of Mademoiselle avocado pumps. All jewelry by Sperry at The Broadway, Los Angeles.
Right: Long-stemmed roses for a sweetheart in an exciting sweater dress and jacket. Svelte Lisa Ferraday says, " These sweater dresses are very continental!" She'll take off the jacket for dancing, to reveal an enchanting, off the shoulder dress with a ribbed softly flared skirt.
Sweet sweater girl Ava Norring is a delightful date in any outfit. Sensational in this scoop-neck, jewel-encrusted evening sweater by Rosanna. "I love its new look of elegance," she tells the lucky man with who she's tete-a-teting in a small cafe this cold December evening.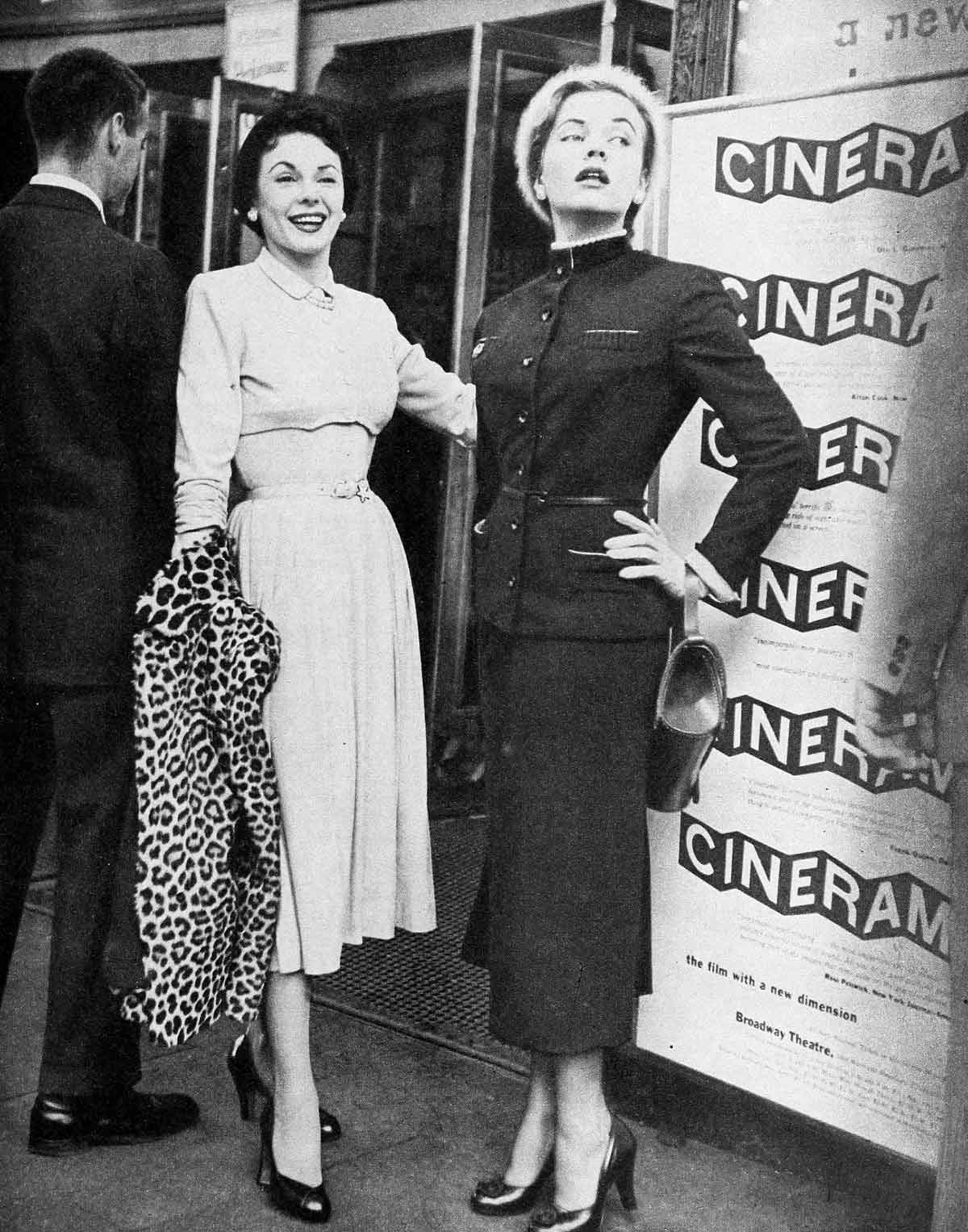 "Movie stars have movie dates, too!" the girls laugh as they are caught in the act of being escorted to an exciting new Cinerama film. And both sweater girls look very chic in the new dressed-up sweater mood. Lisa's pale Wyner jersey ensemble couples a petal-appliqued strapless dress with a daytime jacket. Ava's chic navy fashion Towne suit in the same wool jersey is slim, fitted, piped in chartreuse.
This is rated for the longest life in your wardrobe – a perfectly matched sweater and skirt by Jane Irwill. Lovely Vanessa Brown, starring on Broadway in "The Seven year Itch," selects hers in fern green.
Anne Miller wears a casual jersey skirt and cardigan with a coordinated cotton print shirt.
That's all !
©Glamour Daze 2018