Bridesmaid Dresses for a Vintage Style Wedding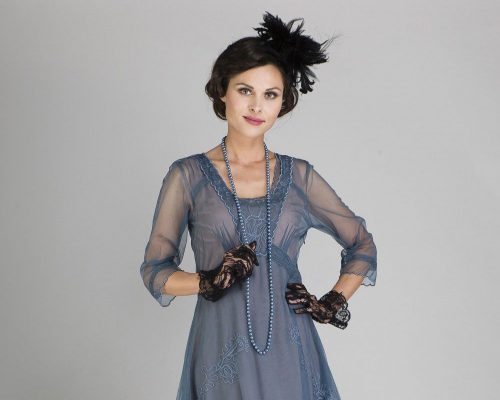 Find the vintage style bridesmaids dresses you've been dreaming of. Glamour Daze examines gowns from two glamorous eras – namely the Titanic era of the 1910s and the Roaring 1920s.
A Vintage Wedding Theme
Weddings are the perfect way to express your individual sense of style. For brides with an impeccable antique elegance, creating a breathtaking vintage-inspired wedding lets you put a stylish twist on old traditions. While finding vintage wedding dresses and vintage-inspired wedding décor is easy, it's important to not forget one of the most important components of any wedding – the bridesmaids dresses!
Titanic Style Bridesmaid Dresses
Not unlike today, bridesmaids from  the Titanic Era wore colored dresses so that they did not detract from the beauty of the bride, who wore white or ivory. Dresses moved away from the boned corset horrors of the Edwardian era to softer materials and looser fittings. The designs were  intricate, and often featured beading, embroidery, lace, or other delicate details.
When it came to formal dresses, silhouettes were flowing and comfortable. They often featured empire waistlines paired with cascading lightweight layers and long, sheer sleeves.
1920s Style Bridesmaid Dresses
In the 1920s Great Gatsby era, weddings were fashionable affairs. Societal norms were changing during this decade, and for the first time in history, fashion decreed that women could  wear shorter dresses. 
Downton Abbey Style Dresses
The phenomenal success of Downton Abbey, created a worldwide fashion frenzy  for 1920s style weddings. The wedding gowns and bridesmaid dresses of its stars like Lady Mary, Lady Sybil and Lady Edith have inspired a whole new generation of women.
Bridesmaids dresses from the Roaring Twenties weren't as short as modern cocktail dresses.
Typically they came to below the knee at the mid-calf – but they still allowed women to show off fashionable footwear.
Bridesmaids also donned a variety of beautiful colors, including blush, pale blue, or yellow, depending on the preference of the bride. Once again, these dresses were intricate in design and featured eye-catching bead work and layers that provided plenty of movement on the dance floor. Dresses from this decade also had shorter sleeves than seen in previous eras.
Period-Appropriate Accessories
Your vintage-inspired bridesmaids won't be complete without the proper accessories. In the past, women wore fun and fashionable accouterments with pride. It makes sense, then, to also adorn your bridesmaids in period-appropriate accessories to perfectly complete their look. It was incredibly common for bridesmaids of the past to wear elegant head coverings. In the Edwardian Era, bridesmaids wore delicate veils, while the 1920s featured bridesmaids in statement hats that were incredibly popular during this decade. Garters were another wedding accessory that were worn by all of the members of the bridal party and remain a fun and flirty addition to any look.
How to Style a Vintage Look
Wardrobe Shop has plenty of vintage style dresses that your bridesmaids will be truly excited to wear. For a wedding that features all of the grandeur from the Downton Abbey era, you'll find dresses that are simply stunning. These formal frocks are decadent in design and allow your bridesmaids to feel like they are right out of a period drama.
For a literal take on a 1920s wedding, dress your best girls in an authentically inspired Bridesmaid Dress. These will feature colorful Art Deco-inspired designs that are both fashionable and fun to wear. To truly top off the look, add an adorable cloche hat, and layer on jewelry, while a fabulous pair of heels or boots acts as a final finishing touch.
That's all !
©Glamourdaze.com 2018