Formal and Informal Winter Dresses for the Holidays –
Winter Dresses for 1954. Some of the prettiest formal and informal dresses to be seen in during the holiday season. .
Above:  Janet Leigh models an after five dress in ice-blue silk satin Jacquard with flattering open neckline and elbow-length sleeves. The long waistline ends at the hips and with soft shirring. John Frederics Charmer hat. Martin Baer fur stole.
This months award goes to these two pretty informal dresses destined to glide across the dance floor this coming holiday season.
Left: May Wynn appears in a sophisticated black velveteen dress. Embroidered with tiny rose buds and fashioned in new holiday proportions. The flared skirt has its own taffeta petticoat. In blue, black,red,and purple velveteen.
Right: So who says opposites don't attract? Black crepe top and creamy taffeta skirt mix and match to form the perfect dancing partner for Lucy Marlow. The skirt is underscored by a taffeta petticoat.
Swishing Circle Skirts 1954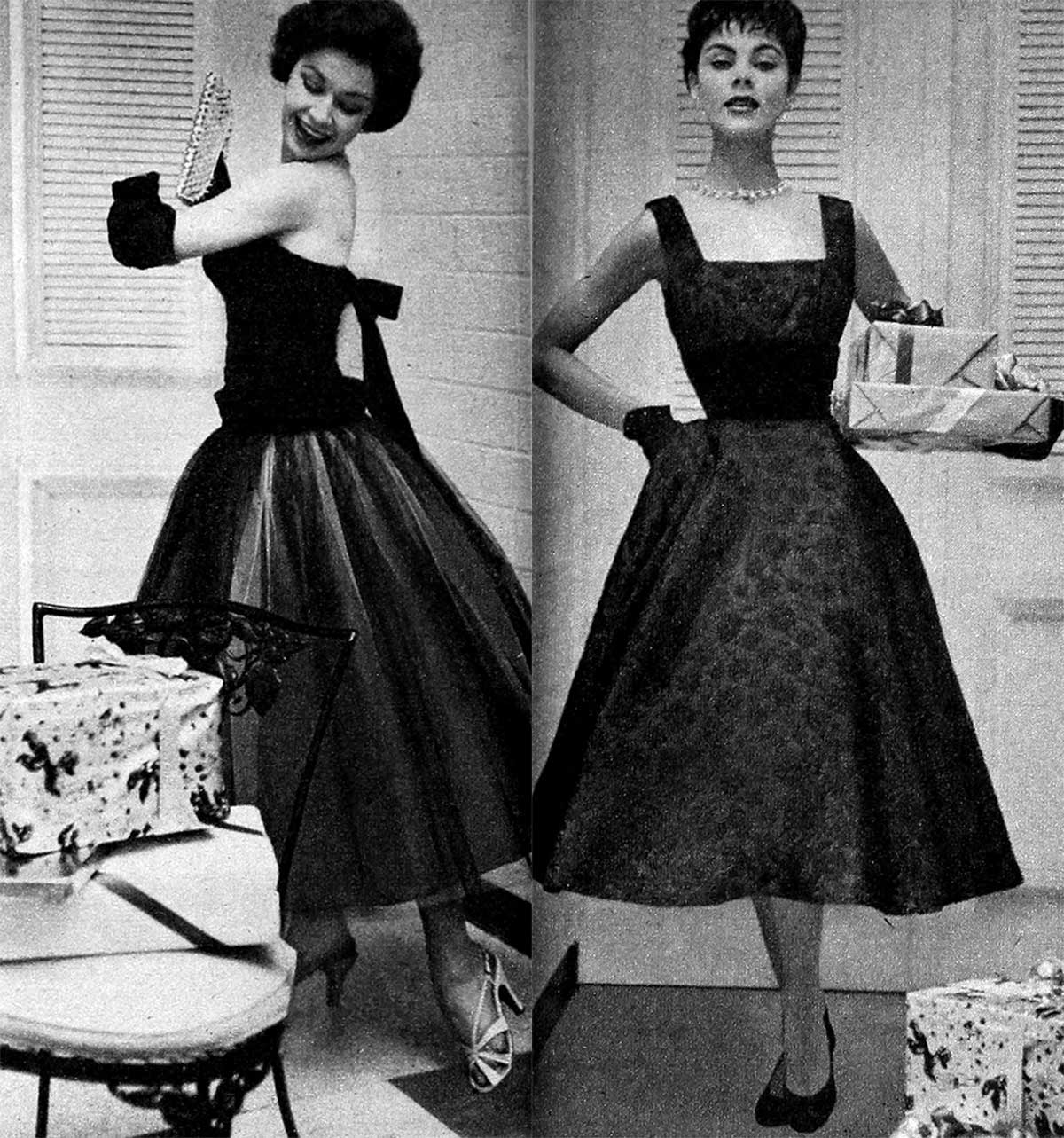 Left: Pat Crowley, a pretty girl in a pretty dress, takes a quick last look before answering the door to her guests. The circling tulle skirt is held out wide on its own tulle underskirt; a zipper is behind the form-fitting velvet top. Black with pink white underskirt.
Right: Joanne Gilbert shows why black has become a favorite of the younger set this season, because she's a black embroidered taffeta dinner dress with velvet-accented midriff.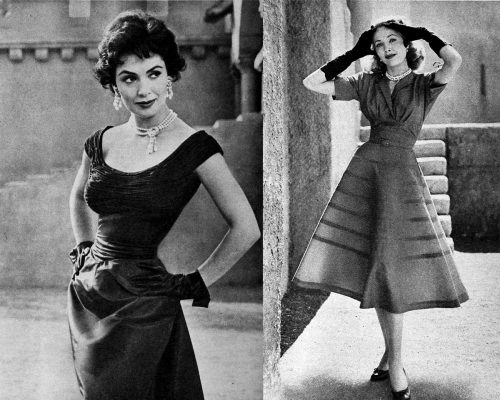 Left: Susan Cabot prefers this black silk taffeta cocktail dress – a delicate framework of draping in the scoop neckline bodice of mat jersey. A mere suggestion of sleeves.
Right: The tailored shirt top merges with the feminine empire skirt worn by Sara Shane. The result is a wearable acetate-chrome spun dress that's perfect for a busy girl with a busy schedule. Tiny tucks give the bodice its feminine line. Available in black, smoke blue, turquoise, mink and red.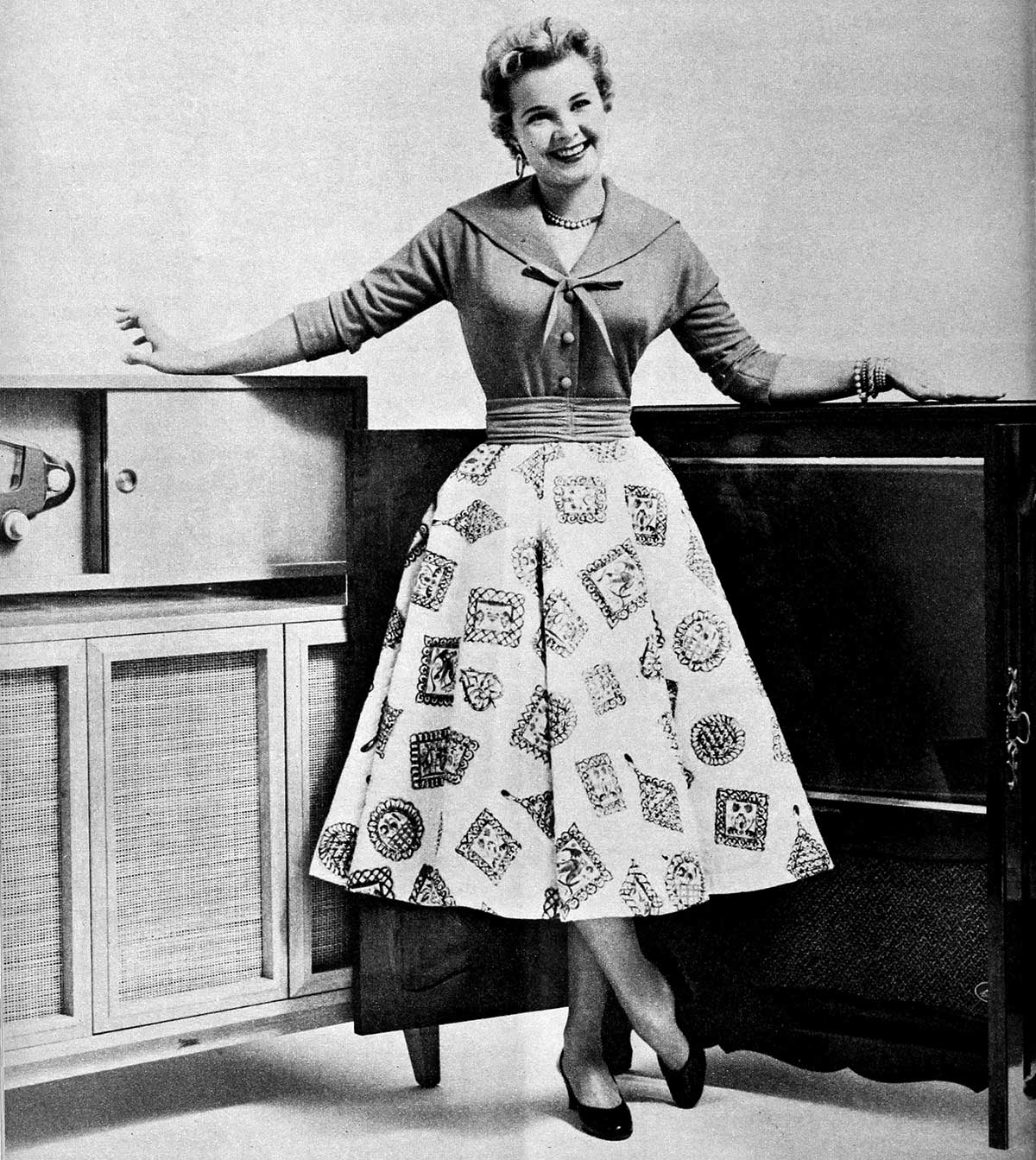 Date night! Take your cur on what to wear from Mona Freeman, who chooses a coordinated top of orange wool jersey, teamed with a fully lined quilted skirt of patterned white cotton. Blouse matching cummerbund.
That's all !
©Glamourdaze 2018