From unfaithful harlot to plucky Waaf –
Conflicting Portrayals of WW2 Women
On both sides of the Atlantic, there were many conflicting portrayals of gender roles,  femininity and female sexuality. All of these messages doled out by the official War Office propaganda machine.
From the patriotic hard working WAAF, Land Girl and Rosie the Riveter to the loose single 'victory girls' who sought out vulnerable servicemen, broke up marriages and spread venereal diseases – a male dominated world was clearly struggling to categorize women in time of war.
Sexism was ever present. Propaganda posters held the assumption that women were doing their bit by taking over the men's jobs. Of course when the war was over they would go back to their roles of housewife and office secretary.
While the war brought un-imagined new levels of autonomy for women on the home front, the propaganda machines were hard at work.
Women should never forget their ultimate domestic roles! Women were not allowed in direct combat. The dear pretty things that they are!
WW2 Women Memorabilia Pack – direct to your device.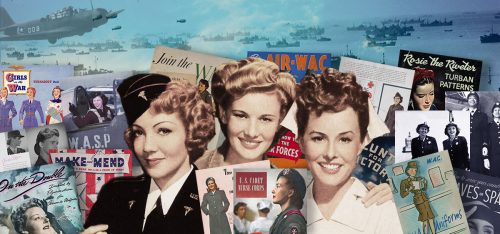 Movie Portrayals of WW2 Women
The 1940s screen woman is most iconic as the 'femme fatale' in so many crime noir films such as Double Indemnity (1944),The Maltese Falcon (1941), Leave Her to Heaven (1945) and The Woman in the Window (1944). In many cases however the movie world helped enhance the role and image of women in war time.
The films of Powell and Pressburger always cast women in strong modern roles, as in The Life and Death of Colonel Blimp 1943, and their work stands above all the other movies of the 1940's war era, not only for this reason but as major works of film art. The British WW2 woman was perhaps given the most enduring images in patriotic flicks such as The Gentle Sex (1943), Millions Like Us (1943) and This Above All (1942).
There was the good woman as portrayed by Greer Garson in Mrs Miniver (1942) ( a fine movie in many ways), or Claudette Colbert in Since You Went Away (1944).These women were seen to be bravely keeping the home fires burning, wringing her hands, pluckily helping out in the Women's Volunteer Services and grieving for her son or husband when they finally 'bought it' over the English channel or out on the Pacific oceans.
Then there was the bad woman, who cheated on her husband or boyfriend or sent badly timed Dear John letters just before he stepped on a land mine! In Jon Towlsons book Subversive Horror Cinema, the 1942 film noir classic Cat People is highlighted as a good example of conflicting portrayals of women on screen in war time. We see two women – Alice who is doing her patriotic bit in the Navy and then Irena, played by Simone Signoret who appears to represent Alice's darker sexual side.
Wartime Women in Magazines
The most inspiring images of 1940s women were found on magazine covers across the globe. They were glamorously dressed, both in uniform and civilian clothing. Hairstyles were perfect rolls and pompadours and their makeup emphasized by  vivacious red lipsticks.
It is this image which most captured the so called glamour of war time, which of course was a myth, but who needs the truth when the myth sells more papers and consumer products. The WW2 woman of the 1940's is thus preserved.
That's all !
©Glamourdaze 2018
Download direct to your device – WW2 Women Memorabilia Packs.