Hollywood Hair mode of 1934 –
By Perc and Ern Westmore – Max Factor Studio Makeup Experts
Summer ..new gowns … a brand new 1930s hair mode or could that be three?
What's going to happen to your hair this summer? Make it something exciting. Something different. You're going on a vacation, so why not let your hair go on one too! Change it. Hollywood says: You can glide swiftly from one personality to another with a change of hair-dress. The stars are all doing it at least three times a day.
Difficult? Not at all. Not when you know the new tricks. Every smart woman knows the idea of wearing hair the same way for every occasion, year in and year out, is deader than yesterday's headline. Variety. That's the keynote for the summer of 1934.
Bette Davis Hair – detachable braid
Braids and cluster curls are the two most important features of the latest 1930s hairstyles. They add. They give you that irresistible quality called "chic." Bette Davis claims that the detachable braid, is "the greatest invention since the lipstick!"
We made one for her, a shining golden one to match her own exactly. "It saves an unbelievable amount of time and bother," she informed us. Yes, and the best part of it is that every girl can get one at any good hairdressing shop. A braid is not expensive. It ought to be from sixteen to eighteen inches long and it'll more than pay for itself in the long run. The point is – you want to be up to the minute with the least trouble. This is the answer.
Bette wears her's across the top of the head and it remains in place with an elastic arrangement which you hide under your hair in back. Then your problem of a formal headdress is solved in a second.Simple – and charming.
Or you can use the braid at an angle – especially if you have a very round face. In that case, part the hair on the left side and start the braid above the right ear and bring it over diagonally to the other side. Where the hair is fullest, attache the braid to it with a clip and wear a similar clip on the opposite shoulder. This not only makes your face seem more slender but gives a girl a definitely voguish air.
Another way is to wear the braid as a neat finish to the back of the hair under your new tilted hat during the day. Or you can coil it on one side of the head and, if your piquantly young, balance it with curls on the other side.
Norma Shearer – new braid hairstyle
And here is where the additional hair pieces become a necessity. Little clusters of puffs and curls have always been intriguing. In the Riptide headdress for example for Norma Shearer, we wanted something that stood out as ultra modern. So it was a matter of parting the hair on the side, the usual part is five inches long, giving it a very loose diagonal wave and dressing it very high on one side, as well as very full, with tight puffs. The forehead, of course, is still kept clear. But here's another little device the stars are using. They are cutting their hair an inch back from the hair-line in front so they can swirl it without disturbing the back ! This gave her a delightfully softened appearance to her features. If a girl has an extreme personality she can do the very unusual and look stunning. Like winding a piece of fabric similar to her evening dress in with her braid. And she can wear what we call the "dual personality" hair-dress. That is where the hair is done differently on either side. Comb your bob straight back on one side as if you were subscribing to the severe boyish headdress of a few years ago.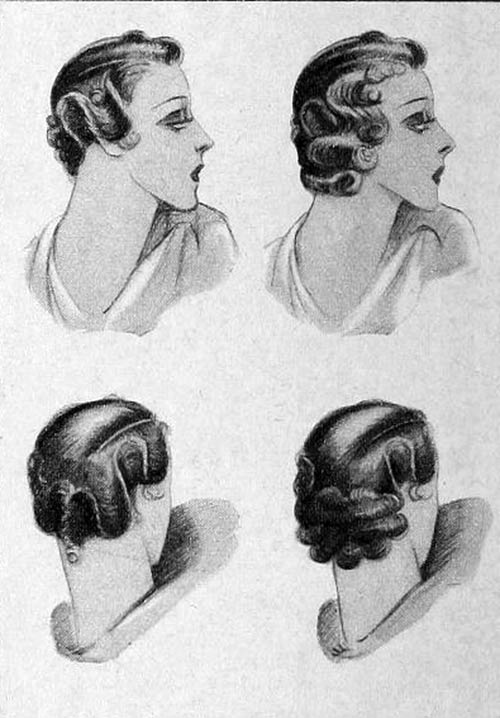 Then bring it around to the other side and fashion it into a series of flat little curls. All the hair is waved and curled. The front is swirled high on the forehead. A person looking at you first from the right and then from the left gets two distinct impressions of what you're like. Ingenious, clever, artful – that's the secret of the new coiffure as worn by Norma Shearer.
Kay Francis, like Bette, wears hers straight across. So does Irene Dunne and Claudette Colbert has been seen with her braid across the back of her head like a coronet.
The main thing to remember is, the newest hair-dos are essentially feminine. Short bobs and conventional set headdresses and bangs are entirely out of date. Hair should be full shoulder length to enable the smart woman to do it up in several swanky fashions. She starts out in the morning for work or shopping with her hair tailored slightly high about the face and with a gradual dip in back. The ends may be curled tight and close to the face to give that fresh crisp look.
For afternoon and dinner she combs out the wave more loosely and fluffs the ends – particularly if she's wearing a chiffon dress or anything else as flatteringly feminine. But for evening she abandons the simple coiffure and goes for elaborate touches if she wants to be a la mode.
That's all !
©Glamourdaze 2018
Originally published by Hollywood July 1934