Profile of a French actress in 1946 –
A revealing social document in pictures by Nina Leen of bohemian life in Paris immediately after the Second World War.
She is blue-eyed, ash-blonde Barbara Laage, aged 25, an up-and-coming young French actress, enjoying the biggest theater boom Paris has ever know. During the past season, 50 plays have been shown nightly in Paris, along with 30 musical reviews. With Parisians hungry for new ideas and entertainment, theater producers are going all out to provide lavish shows though they scrimp by on actors salaries.
At the moment, Miss Laage is known only to those theatergoers who venture deep enough into Montparnesse to reach a little street called Rue de la Gaite. For two blocks the street is packed with small cafes and theaters. Barbara acts and sings there in a witty little musical review which she hopes will be a stepping stone to greater things. There is no theater in Barbara's family background. Her un-French name dates back to Swedish ancestors who settled in France. Her father was an aviation engineer, her mother a pianist. After she had fled Paris during the German occupation, Barbara suddenly made up her mind to be an actress. She returned to Paris to study in drama school, found work with touring groups where she played Ophelia in Hamlet.
Basically the story of Barbara Laage, which is told by Life photographer Nina Leen in her pictures, is the universal story of an ambitious young woman. But in her case, it takes on the complexion of a social documentary, showing how part of postwar Paris is living by its wits and keeping up its spirits.
For a bath Barbara makes a date in advance to use a friend's bathroom because there is no hot water in her little artists studio. She usually reserves the bathroom for a long time in the afternoon to wash her hair, do laundry and have a long soak in the tub.
Her entire 1940s wardrobe, except for dress and cape at cleaners, consists of a wool dress, striped rayon suit, old grey suit, blue suit, four jackets, two sweaters and slacks, and five pairs of shoes. Only one pair has leather soles. She cleans her shoes herself.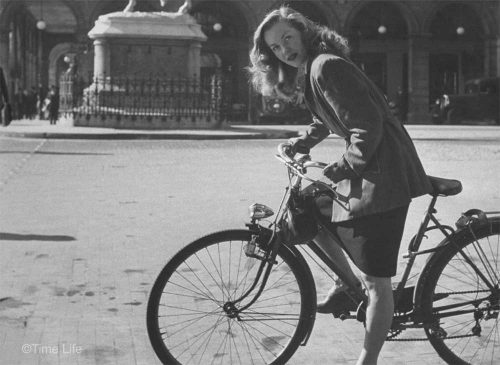 On her bike, Barbara sets off around the corner from her third floor studio on the Rue de Rivoli. When meeting her friends, she usually specifies, "Downstairs beside Jeanne d`Arc," referring to the glittering gold statue in the background.
Buying soap in post war Paris requires astute knowledge of supply sources, as soap is not readily available these days. Because Barbara needs ten times the normal ration to remove stage-makeup, she gets extra soap from the concierge of an apartment where she once lived.
Barbara's books fill shelves in her studio to the ceiling. Most of her 300 volumes are inexpensive, paper-bound edtions of plays or of books about theater. She suppliments her wardrobe with shirts which her boyfriend lends her, wearing them with with skirts or slacks as seen here. In this, she exemplifies the tremendous new influence exerted by US style and customs on young French girls – a major shift from before the war.
In post war Paris, where living is not easy, give and take among friends is an absolute necessity. Barbara gets 3,000 francs a week from her current job ( about $25) which would hardly pay her meals. Barbara and her boyfriend Bob Moncade meet for lunch or dinner every day, or after the theater go up to the Lapin Agile, a little tavern in Montmartre where customers join in singing old French folk songs. Barbara and Bob think and talk theater all the time.
A free evening dress is loaned to Barbara by famed dressmaker, Rochas, who, like other Paris dressmakers, often lends pretty actresses gowns to be worn in public and returned the next day.Her boyfriend Bob holds the mirror for her.
Free hats for one night are easy for Barbara to acquire because her younger sister Christiane works in a smart little hat shop. Here Christiane helps her select a fine bit of feathered nonsense for an important dinner date. Barbara herself owns no hats at all.
Free acting lessons are given to Barbara backstage at a Paris theater by Maurice Escande of the Comedie Francaise.
Free guidance on her stage career is given to Barbara by Leopold Marchand, noted dramatist, who first saw her act on tour. Now he is writing a play with a part for her.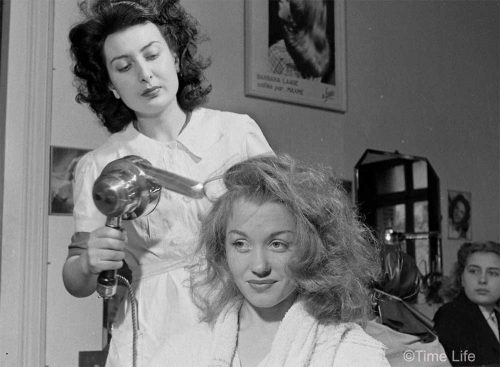 Free hairdo once a week is her reward for letting hairdresser Maxim use her for publicity purposes. But this pleasant arrangement last only while Barbara is appearing in the show.
When Spring comes around, Barbara indulges her fondness for glaces, which she buys at little ice cream stands on the Champs-Elysees. The glaces sold now are mostly water. Barbara gets dreamy eyed thinking about the candy bars GI's used to give her.
But apart from such pleasures, Barbara has only one real interest. It shines unmistakably out of her large blue eyes when she scorches through the Paris streets on her bike to the reach the theater, always ahead of anyone else in the show.
That's all !
Transcription ©Glamourdaze 2017
Photographs by Nina Leen
©Time Life 1946