Instant lip glamour in 1949 –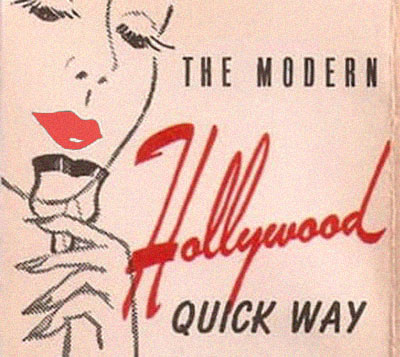 From Hollywood comes a sensational new method of lipstick make-up for screen and stage stars, photographers's models and for your own personal use – Glamour Lips!
One of the most difficult make-up problems is made amazingly simple with the Glamour Lips lipstick applicator. This new technique gives you a clean, sharp, contrasting outline every time. The applicator is flexible and is automatically adjustable to your own lips line requirements. The Glamour Lips applicator is skillfully designed to give you a truly glamorous lipstick contour even though your lip line may not be perfectly shaped.
(note: while this idea clearly didn't quite 'take off', vintage Glamour Lip Applicators are often available via Etsy or Ebay!)
1940s Glamour Lips – Step 1
Completely cover the inside flat surface of your applicator with lipstick.
Step 2
Smooth out the lipstick evenly with your finger or lipstick. Wipe off surplus from top edge.
Step 3
Lips should be dry and powdered. Now, part your lips and draw them back as you would when you usually apply your lipstick.
Step 4
The curve of the cupid's bow can be varied by drawing your lips back during application. Now, move bottom of handle to or from the chin to line up top ends of applicator with the corners of the mouth.
Step 5
Place applicator on your upper lip where the lipstick outline is to be. Now press and allow a moment for the lipstick to become warm; then, with a gentle pressure, pull your applicator down.
Step 6
Press your lips together, moving and rubbing the lower lip in and out against the upper lip as you would normally do. This will distribute the lipstick evenly on both lips.
Step 7
You now have a glamorous fresh looking and perfectly shaped lipstick outline.
That's all !
©Glamourdaze 2017
Images courtesy of the Booklets Project at the amazing Cosmetics & Skin