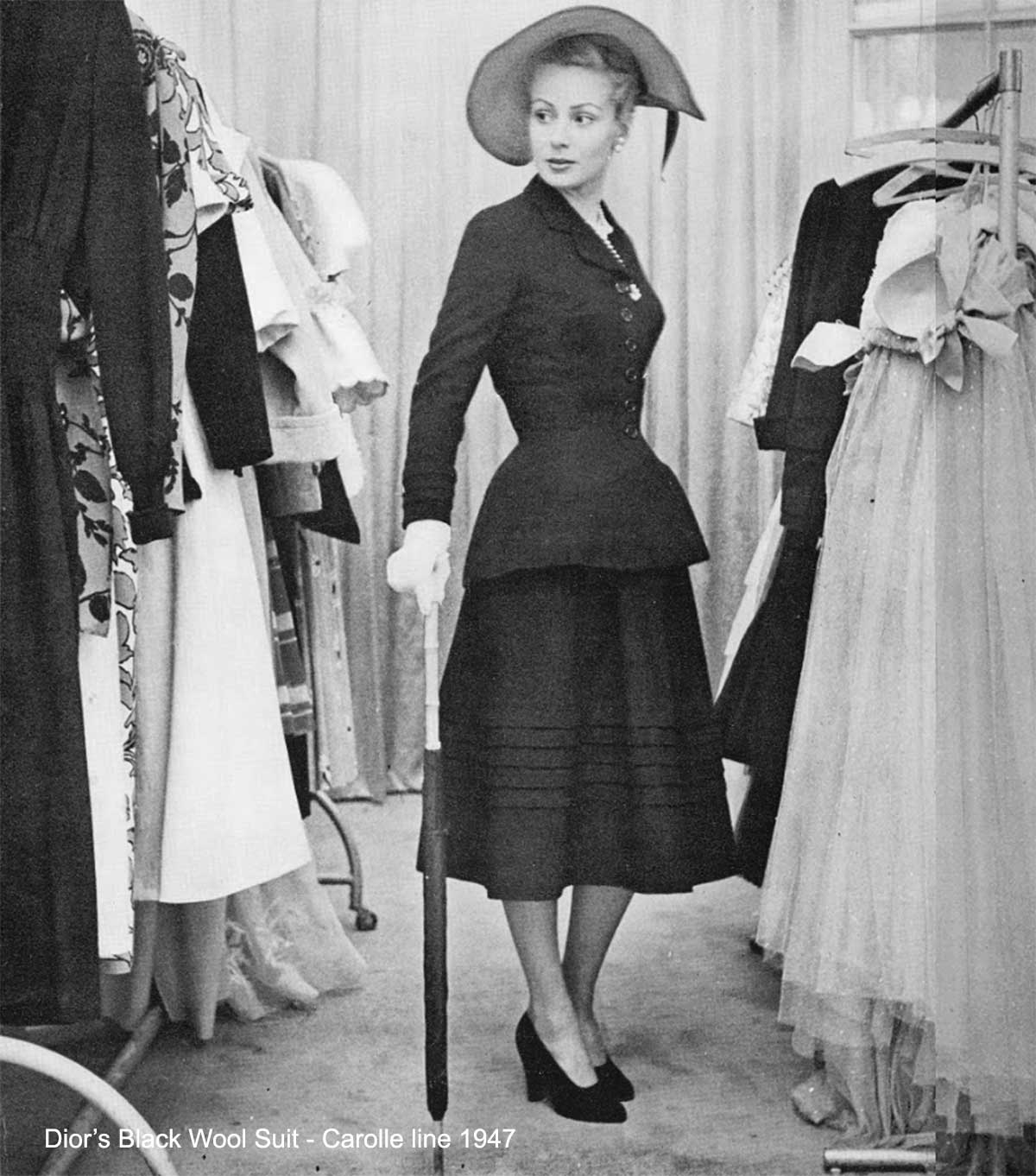 This was Europe's worst winter since 1870. There was little coal, electricity was rationed and Paris was buried in snow. With fingers stiff, but with ideas running free, designers worked against the cold toward exciting new ideas.Perhaps nowhere but in Paris would the rise of a new designing star cause such general excitement.
The New Name in Paris is Dior
Not limited to the couture world or the world of fashionable women, the talk of the town at the moment – is Dior. And the mode of the moment are Dior's  En Huit and Corolle lines ( ( figure of eight and pleated flower)
If there is a composite, mythical woman dressed by a mythical couturier, she would probably wear her skirt about fourteen inches from the floor; it might have, for its working model a flower; petals of padding and stiffening sewn beneath the cup of the skirt; or it might be a long, straight tube beneath a belled and padded jacket.
A New Silhouette for 1947
Her waist could be as small as nipped-in cut and tight bodice and padded hips could make it.Her shoulders would be her own; her arms traced closely in cloth. The hat engaging but not silly – a mushroom hat with an almost flat surface with crown slipping into brim. She might wear a high necked, boned-collar blouse, or she might wear a suit with a low-necked collar; there would probably be a fan of pleating somewhere about her; and she would, without question, wear opera pumps – pointed, high heeled.
In the first excitement of a new starring house in Paris – the opening of Dior – one might have forgotten, but only for a moment, that a seemingly new and certainly lovely look was evolving all the Paris spring clothes. Evolving from the exaggerations and hesitancy of other collections and evolving in spite of the shutting down of electricity; in spite of a cold bitter winter that stiffened fingers and froze everything but ideas.
In line: this look has been unforced femininity – a polished continuation of the rounded line that has been seen in Paris ever since liberation. The detail: the silhouette is so gently handled that there is no effect of heaviness on the one hand, or of stricture on the other. And the longer skirt, the hats made for becomingness – a gentle decorum.
That's all
©Glamourdaze 2017
Images © Eugene-Kammerman and Pat English
Transcript Vogue 1947