Sixty Years of Women's Foundation wear –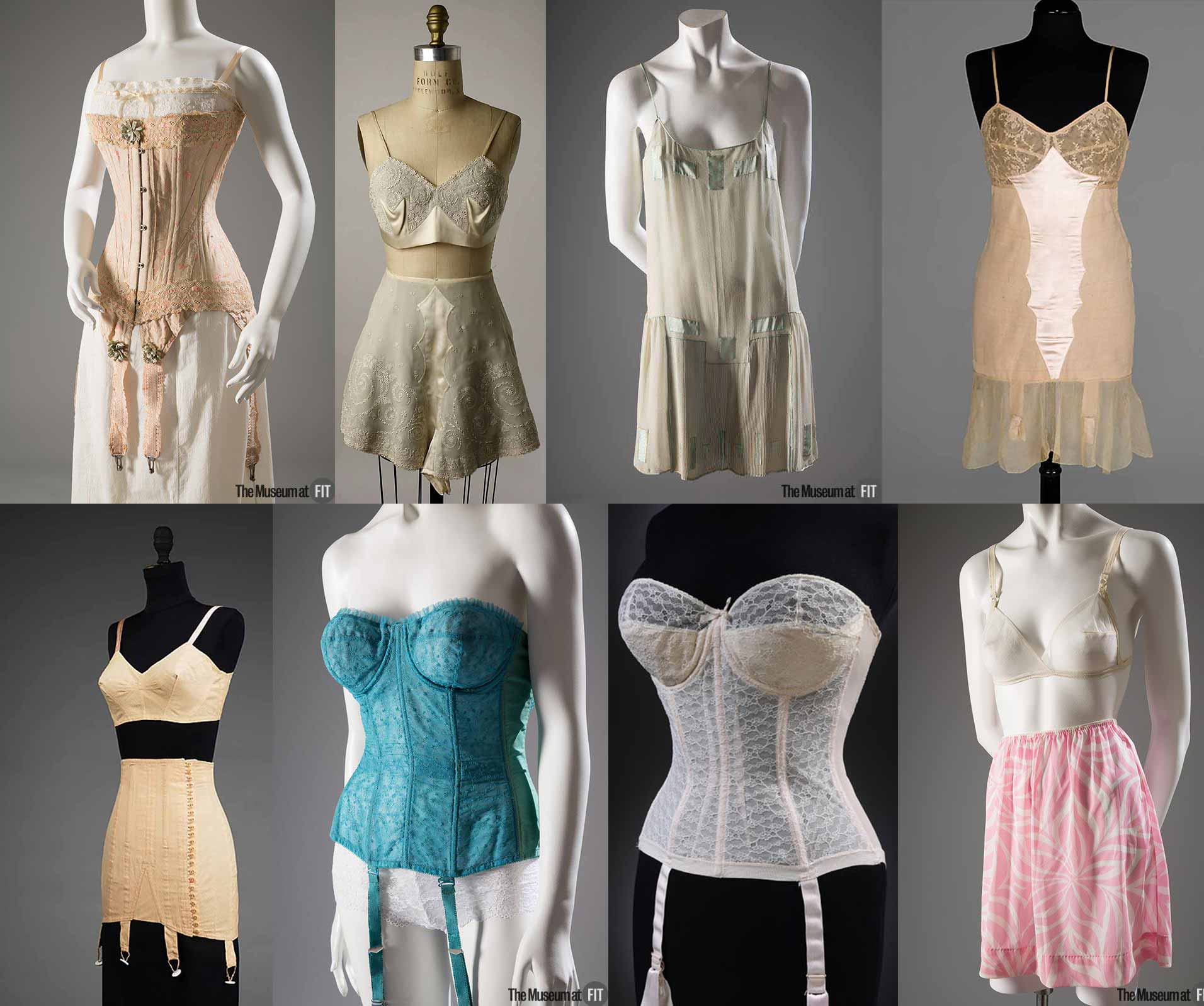 1905 Corset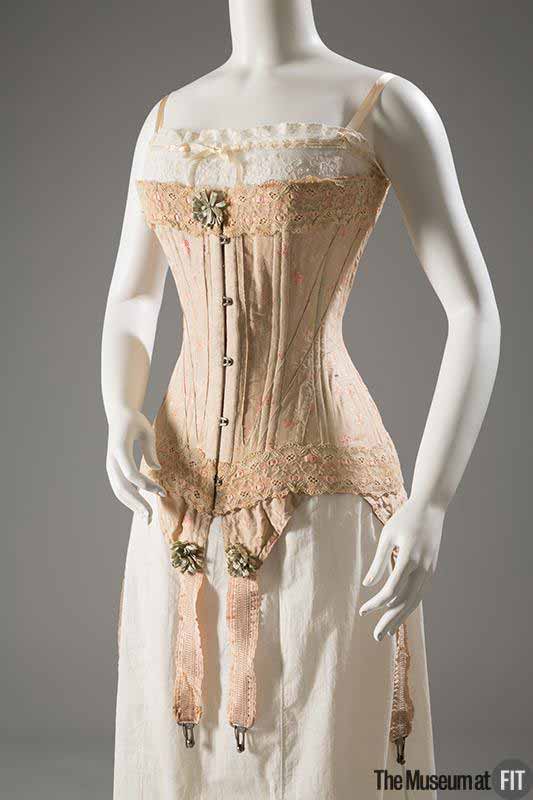 Originating from England, this s-curve corset made with floral brocaded silk, silk ribbon, and elastic. The Edwardian corset rested low over the bosom and extended down over the hips. The straight-front, when laced up provided the infamous s-curve which pushed breasts out, stomach in and back arched. Although pioneered by female corsetieres, this style was very restricting and though visually appealing as a silhouette, was not so good for a woman's health. Pass the smelling salts !
1923 Silk Pants and Bra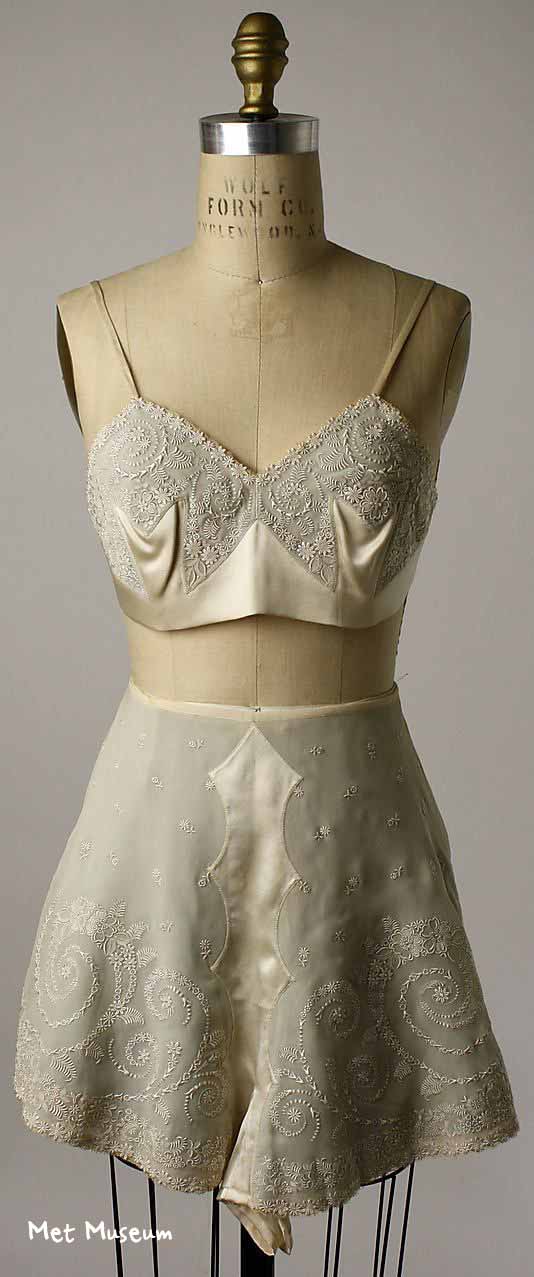 From circa 1923 – a stunning embroidered set of silk tap pants and bra,this came as part of a lingerie set, with slip and nightgown.
1924 Camiknickers
By the 1920s, lingerie had evolved considerably, ushering in loose comfortable and soft fabrics. Gone were the restricting boned foundations of the Edwardians. From the Titanic era, through the First World War and onward, the new lean silhouette encouraged slimmer lingerie. Camiknickers were made from light delicate fabrics, with a sleek silhouette that could be worn under the new gamine, knee-length frocks of the mid 1920s.
1935 Corset and Slip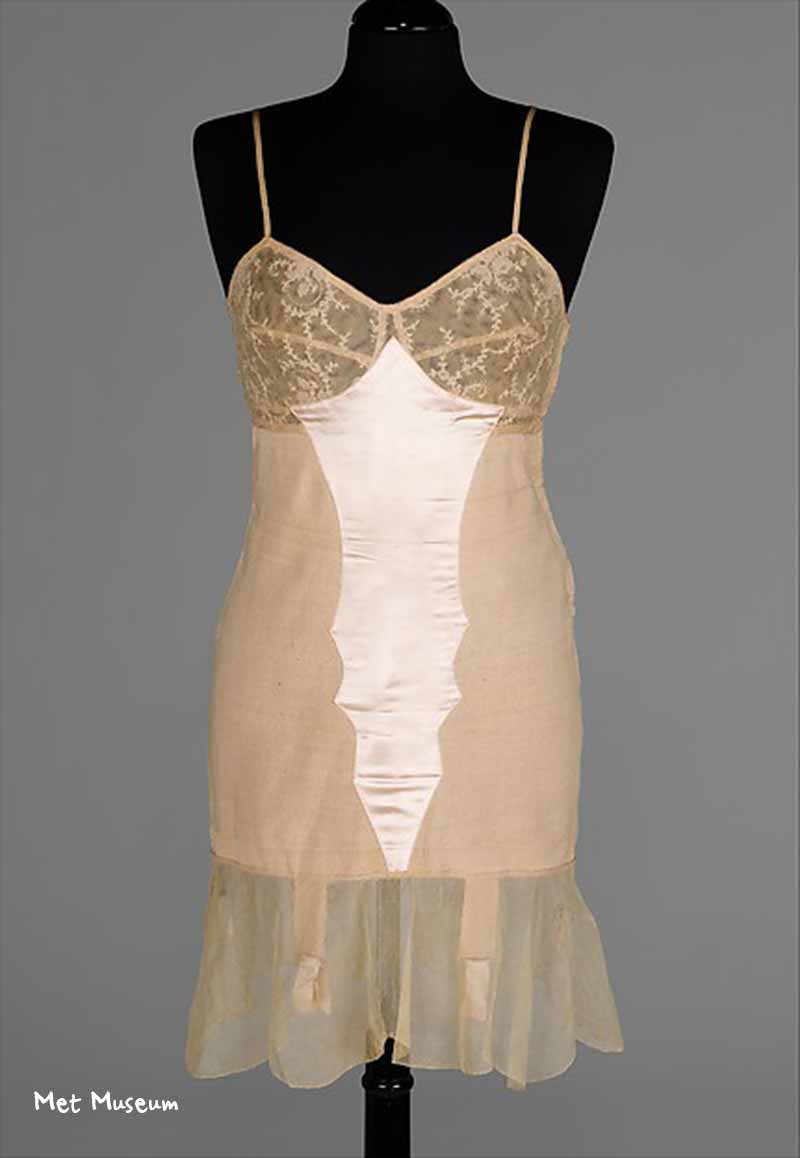 The 1930s returned to more close fitting and tubular designs, with skirts and dresses extending to the ankle. Foundation wear, like this corset with suspenders was designed to mold and smooth the contours to fit this silhouette.
1943 Short Slip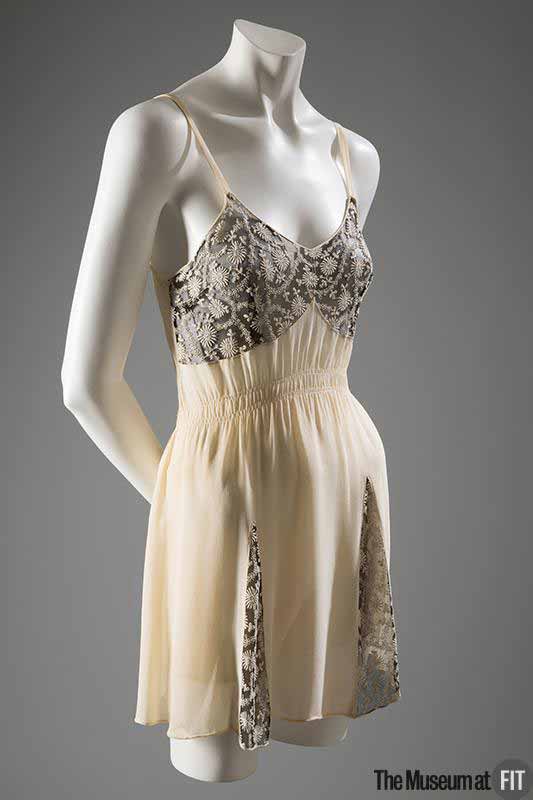 To the left, we have a short rayon chiffon slip with black and white Schiffi lace. Worn with matching panties, this was worn under your typical short 1940s frock or utility dress.
1942 Bra and Girdle Set
From America 1942, this Nina Fey bra and girdle set, using plastic for closures and stays instead of metal due to war restrictions.
1941 Corselette
With the scarcity of material in England during the Second World War, rationing encouraged manufacturers to produce garments to fit restrictions, like this charming corselette by Twilfit.
The 1954 Corselet
On the left; this 1954 corselette designed by Marie Rose Lebigot,made from nylon, lace and elastic helped nip the waist to create a rounded feminine contour. The strapless design was for wearing under evening gowns with underwire cups lifting and emphasizing the breasts.On the right; Warners 1957 "Merry Widow" corselet helped reduce the measurement of the waist.
1957 Corselette
Part of a Wedding ensemble from 1957, this Berlei pink corset of nylon and lace represents all the glamour of the 1950s era.
1965 Bra and Half Slip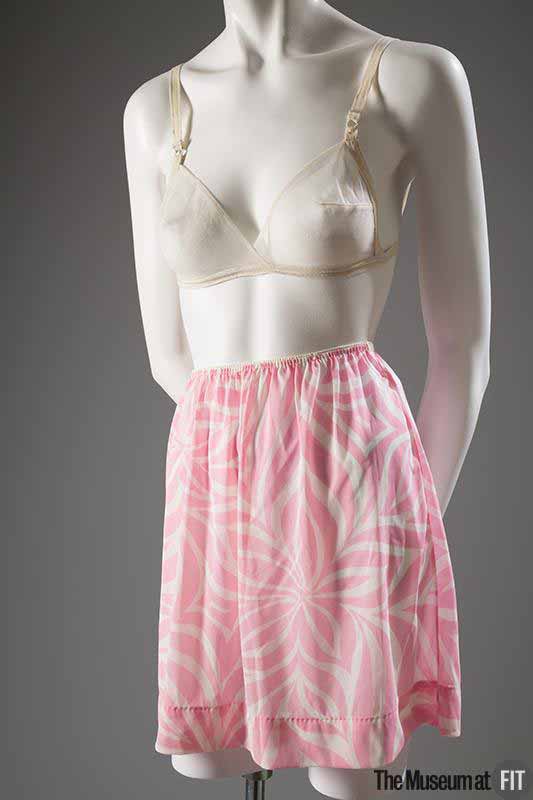 By the mid 1960s, lingerie had returned to the simplicity of the 1920s, with this wireless bra by Rudi Gernreich. It adapted to the natural shape of the breasts and came in sheer nylon. The half-slip was perfect for wearing under a miniskirt. (Also by Gernreich ).
That's all !
©Glamourdaze 2017
Images
Fashion Institute of Technology FIT
Metropolitan Museum
Victoria & Albert Museum