Hollywood by the Sea July 1934 –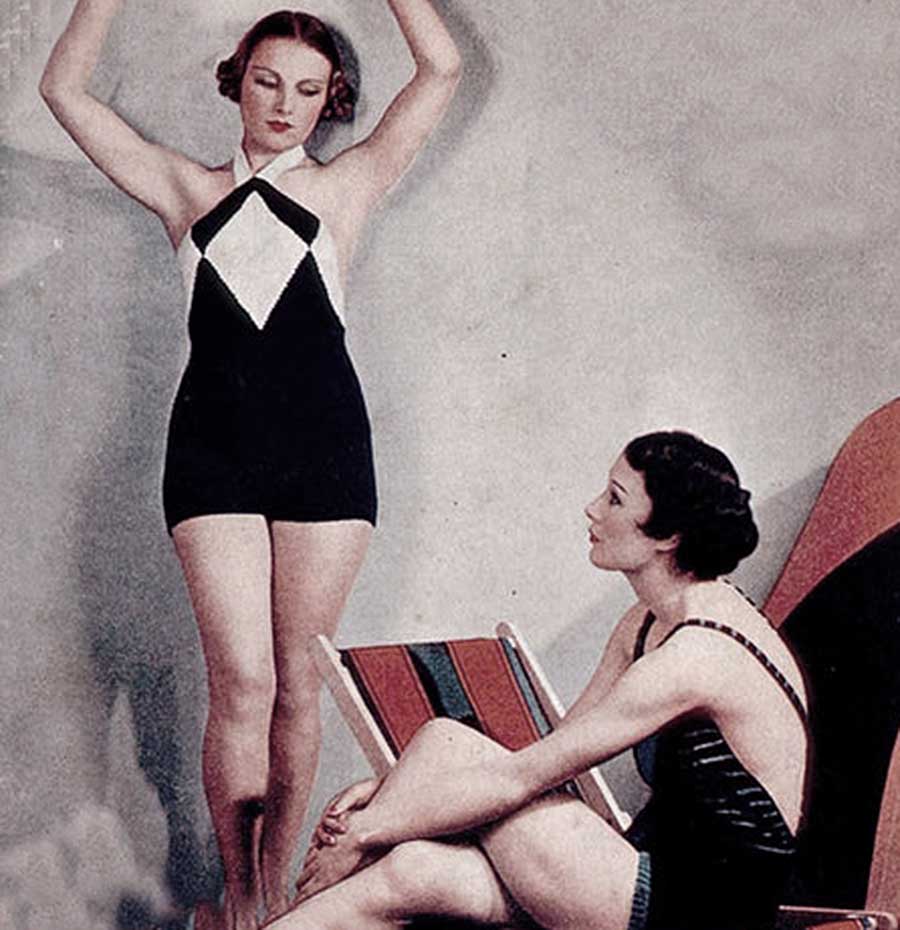 Left:Alice Faye,managed to get a nice suntan and the contrast of her skin with her white beach outfit is striking. Her rubber suit and terry-cloth cape are trimmed in green to match her straw hat.
Right:Apparently Carole Lombard teases Old Man Sun to do his stuff by wearing this daring black silk bathing suit, and then seeks the shelter of her beach umbrella.
Left: With streamline effects having made their appearance in swim suits, Gloria Stuart is now curious about their floating power. Her suit is made of white rubber, banded in red and blue.
Right: Pleasing piracy is committed by Carole Lombard in he white crepe hat. Carole liked the lines of the suit well enough to have several made in different pleasing colors. Here she wears the attractive white one.
Left: Carole Lombard goes Mexican in the newest resort fashion – a swanky version of the Mexican serape, which is an ideal cover for the one-piece swim suit. The serape may also be spread out and used on the beach as a blanket. Carole chose one of brown linen, lined and belted with green terry-cloth. She tops it all of with a straw sombrero.
Right:Esther Ralston introduces a beach version of the sailor suit made up of soft, fine, white linen. The sailor collar of the tuck-in blouse is trimmed with navy blue braid and there is a navy star embroidered in the two corners of the collar in back. The slacks are fitted and buttoned in real sailor fashion on both hips. Only the sandals are non-nautical but fit the ensemble very well don't they?!
That's all !
©Glamourdaze 2017