Airport Chic from the 1960's Kennedy Era
A 1960s fashion infomercial by Johnston Wax presented as a women's reality TV show. All that hairspray !!
Every woman has her own figure and there is a correct colored clothing to enhance each figure. In addition, we're going to give you advice on color, line and texture in each of three basic sizes, to help you look your very best ! You can watch the original video Airport Chic – 1962 Fashion Show for 3 Figure Types in our YouTube Vintage Fashion Archive.
The Junior Figure
This is a classic modern 1960s suit, good for any season, time or place.The things that make it that way are the simple lines and proportions that follow and enhance the natural shape.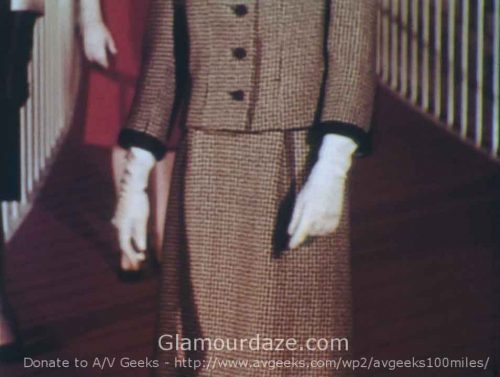 This type of suit will stay in style for a very long time.The fabric is a blue and white wool tweed with navy blue trim. It features a peter pan collar.
The Misses Figure
Her jacket is white, the skirt and buttons are black as is the tie.The fabric is silk and Wooster. Regardless of the three basic figure types you are, this particular suit comes in various sizes to show your figure at its very best.
The Woman's Figure
This is a linen suit in a lovely rose wine shade and there is the correct balance between the jacket and the skirt.Beauty by keeping it simple.
Now lets look at some of the ideas that can help you get the most out of your figure through color, line and texture.

Believe it or not, though they all look like they're wearing different outfits, all our girls are wearing the same suit, and so am I !
With a few variations, it's a classic style designed by Jack Sarnoff, designed by Molly Sarnoff !
The Junior suit is all one color, giving the illusion of greater height.
With the Misses suit, you get away with almost anything such as contrasting colors.You'll notice that the skirt is subtly shaped and not too tight. There are no gimmicks on this suit that might put it out of fashion after one year. Now with the Woman's suit, you'll notice that the line of the jacket blends with the silhouette of the skirt.The fabric has a matt finish which makes the wearer appear trimmer.
Now lets look at all three figures again. Remember the essence of good fashion is simplicity !
That's all !
©Glamourdaze 2017